Failure to improve calcium content of earthworms (Dendrobaena veneta) through three methods of gut-loading.
Keywords:
calcium, copper, earthworm, gut loading, magnesium, phosphorus, zinc
Abstract
The diets provided to many captive insectivores are deficient in calcium and high in phosphorus, which can lead to nutritional disease. Husbandry professionals may address this imbalance through supplementation, but the efficacy of different methods varies between invertebrate taxa. Earthworms are frequently used for aquatic and fossorial insectivores and this along with their rapidly shed mucus layer makes dusting with supplements ineffective; gut loading is likely the only available route to improving nutritional quality. Moreover, earthworms are often considered a good source of calcium, though data exist only for some taxa and results are mixed with regards to calcium content. The present study analysed the calcium and phosphorus content of Dendrobaena veneta earthworms, a species commonly commercially reared and sold for insectivore food, gut loaded on three diets (fresh vegetables, fortified instant porridge oats and a commercial gut loading diet) and quantified the zinc, copper and magnesium content of fasted worms. Dendrobaena worms contained sufficient zinc, copper and magnesium to meet the general requirements of domestic birds, mammals and other vertebrates for these metals. However, calcium and calcium:phosphorus ratios of worms were deficient and did not improve after being offered fortified diets. Insufficient calcium in the diets, unpalatability of food and habituation effects also potentially contributed to this result. Unless better means of improving calcium content of Dendrobaena can be developed, husbandry professionals should be circumspect in their use of this species in a diet and ensure that dietary items with sufficient calcium are also provided.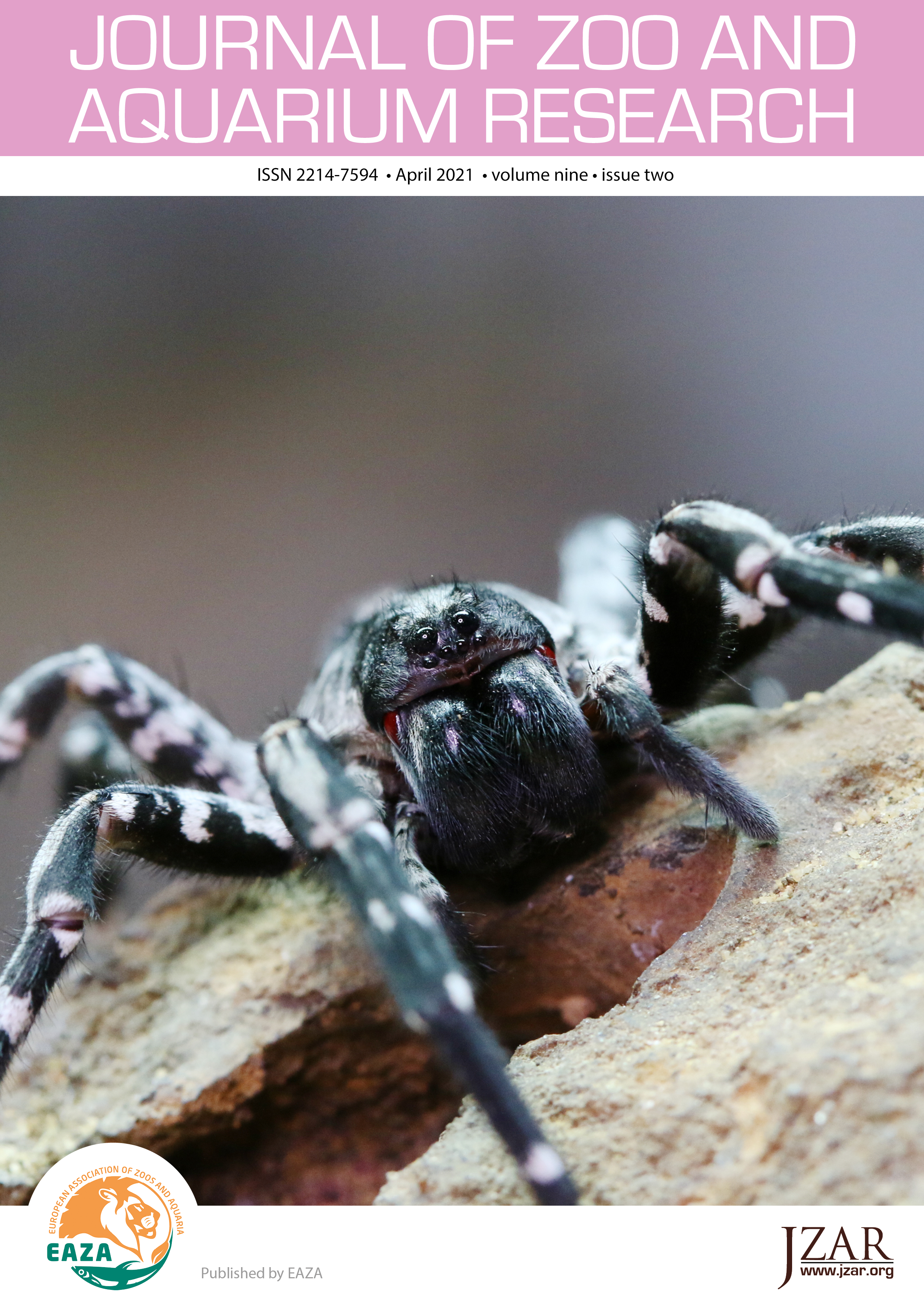 Downloads
How to Cite
Michaels, C. J., Ferguson, A., McKendry, D., Newton-Youens, J., & Whatley, C. (2021). Failure to improve calcium content of earthworms (Dendrobaena veneta) through three methods of gut-loading . Journal of Zoo and Aquarium Research, 9(2), 134–138. https://doi.org/10.19227/jzar.v9i2.554
Section
Evidence Based Practice
License
Authors who publish with this journal agree to the following terms:
Authors retain copyright and grant the journal right of first publication with the work simultaneously licensed under a Creative Commons Attribution License that allows others to share the work with an acknowledgement of the work's authorship and initial publication in this journal.
Authors are able to enter into separate, additional contractual arrangements for the non-exclusive distribution of the journal's published version of the work (e.g., post it to an institutional repository or publish it in a book), with an acknowledgement of its initial publication in this journal.
Authors are permitted and encouraged to post their work online (e.g., in institutional repositories or on their website) prior to and during the submission process, as it can lead to productive exchanges, as well as earlier and greater citation of published work (See The Effect of Open Access).