Comparative Evaluation of Wheat-roti or Rice-lentil Mixture as Supplements for Growing Asiatic Elephants (Elephas maximus)
Abstract
The feeding of supplements that supply all nutrients in optimum amounts to support normal growth is of paramount importance when feeding growing elephants in captivity. This experiment evaluated wheat roti (WR) and a rice–lentil mixture (RLM) as supplements for growing semi-captive Asian elephants. Six sub-adult (7–12 years; 1327–3288 kg) elephants were split into two groups of three each. The study period was divided into two, and each group received both supplements in a switch-over design. Elephants in treatment I and II received concentrate supplements consisting of WR and RLM respectively. They were allowed to forage in the nearby forests from 0530 to 1730. Cut grasses (narkul, Arundo donox) were offered ad lib (20% excess of previous day's intake) to each animal from 1730 to 0530 when they were in their enclosures. As animals were in enclosures during the night, faeces of each individual elephant could be collected separately, and elephants had no access to one another's feeds. Faeces voided during foraging were collected in full, representative samples of forages consumed were taken and intake during foraging was measured indirectly using lignin as a marker. Intake of cut grasses and forages were similar between the treatments. Apparent digestibility of CP was higher (P<0.05) in treatment II. Apparent digestibility of other nutrients was comparable in both the treatments. Intake of zinc was higher in treatment II. Intake, excretion and absorption of Ca, Co, and Cu did not differ between the treatments. Absorption of P and Fe was higher (P<0.05) in treatment II. Blood metabolites, serum enzymes activities and concentration of serum minerals were similar among the treatments. The relative population of total bacteria was numerically increased in treatment II. The results of this experiment demonstrate that RLM may be better supplement for growing elephants than WR.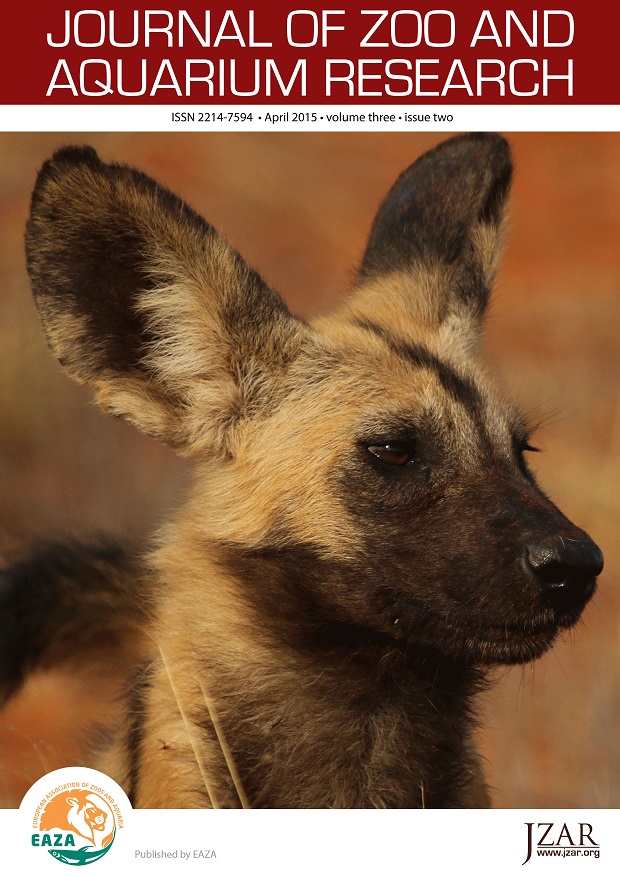 Downloads
How to Cite
Katole, S. B., Das, A., Saini, M., & Sharma, A. (2015). Comparative Evaluation of Wheat-roti or Rice-lentil Mixture as Supplements for Growing Asiatic Elephants (Elephas maximus). Journal of Zoo and Aquarium Research, 3(2), 63–69. https://doi.org/10.19227/jzar.v3i2.30
License
Authors who publish with this journal agree to the following terms:
Authors retain copyright and grant the journal right of first publication with the work simultaneously licensed under a Creative Commons Attribution License that allows others to share the work with an acknowledgement of the work's authorship and initial publication in this journal.
Authors are able to enter into separate, additional contractual arrangements for the non-exclusive distribution of the journal's published version of the work (e.g., post it to an institutional repository or publish it in a book), with an acknowledgement of its initial publication in this journal.
Authors are permitted and encouraged to post their work online (e.g., in institutional repositories or on their website) prior to and during the submission process, as it can lead to productive exchanges, as well as earlier and greater citation of published work (See The Effect of Open Access).