Comparison of growth rates of hand-reared and mother-reared Sunda pangolin (Manis javanica) pups at the Night Safari (Singapore).
Francis Cabana, PhD

Wildlife Reserves Singapore

https://orcid.org/0000-0002-9716-249X

Claudia Tay

Wildlife Reserves Singapore

Irfan Arif

Korean Advanced Institute of Science and Technology
Keywords:
milk, nutrition, myrmecophagy, rescue
Abstract
The Sunda pangolin (Manis javanica) is a critically endangered myrmecophagous mammal, found throughout Southeast Asia. A rescue centre receiving custom's seizures must be able to rehabilitate these animals. Unfortunately, gestating females tend to either abort or give birth during this period of stress, leaving rescue centres with new born pups, perhaps needing hand-rearing. The Night Safari (Singapore) has been caring for M. javanica since 2005 through rescue operations; however they officially became part of the animal collection in 2008. On two separate occasions, motherless pups have been brought to the rescue centre by officials, and had to be hand reared, both fed a feline milk replacer. The aim of this study was to compare the growth rates of hand-reared versus mother-reared pangolin pups. We regularly weighed the two hand-reared pups and the three mother-reared pups and compared growth rates using a linear regression model, and performed an analysis of covariance to determine if there was a significant difference between both rearing types. The hand-reared cubs had a significantly lower growth rate than mother reared cubs. The hand-reared cub's growth rate showed a structural break at around day 60, where growth slowed significantly. Feline milk was nonetheless successful, but did not have an ideal growth rate. Other myrmecophagous milks become energetically denser, and the protein to fat ratio decreases throughout lactation. This could be trailed in future hand-rearing to compare growth rates.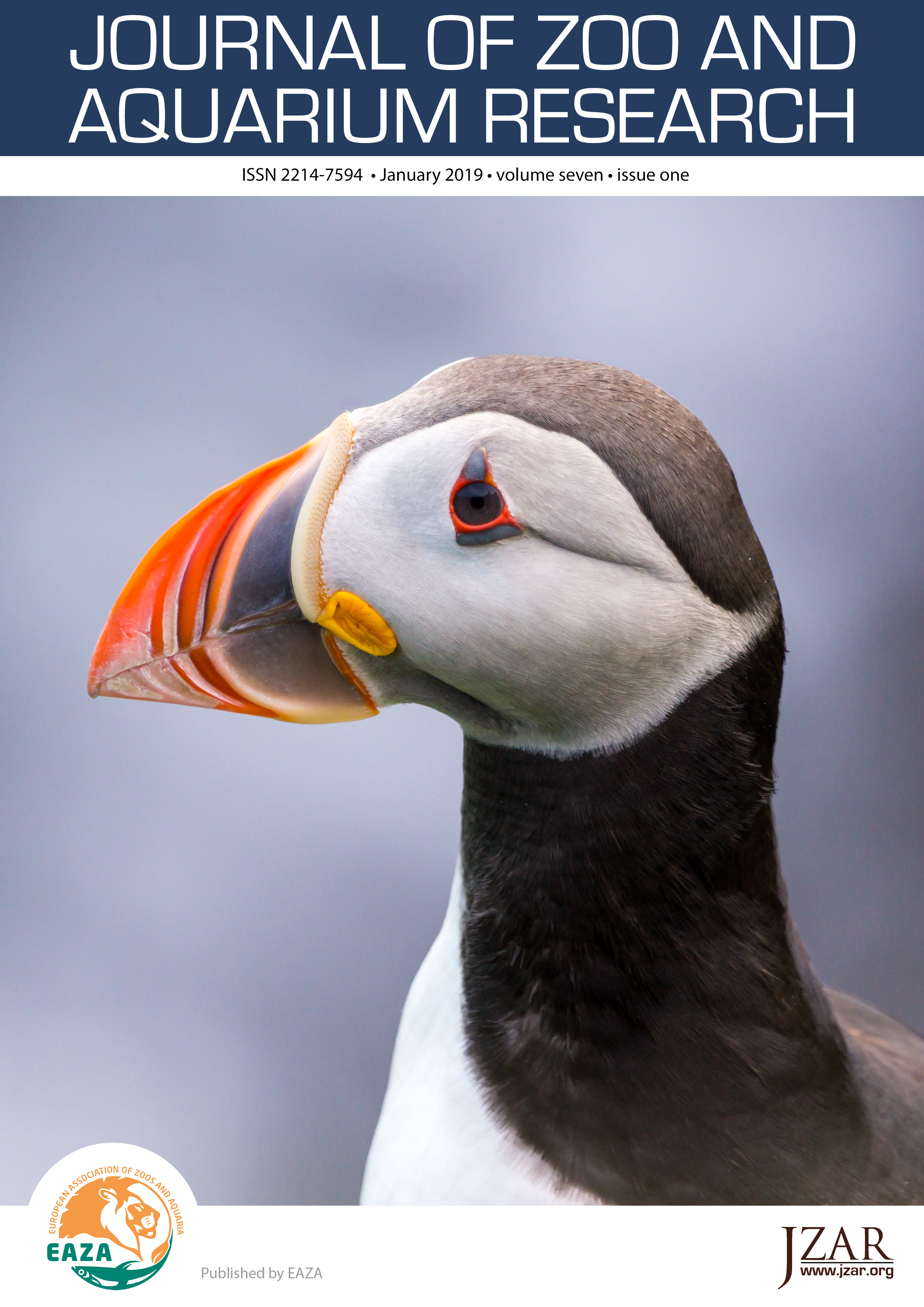 Section
Evidence Based Practice
Authors who publish with this journal agree to the following terms:
Authors retain copyright and grant the journal right of first publication with the work simultaneously licensed under a Creative Commons Attribution License that allows others to share the work with an acknowledgement of the work's authorship and initial publication in this journal.
Authors are able to enter into separate, additional contractual arrangements for the non-exclusive distribution of the journal's published version of the work (e.g., post it to an institutional repository or publish it in a book), with an acknowledgement of its initial publication in this journal.
Authors are permitted and encouraged to post their work online (e.g., in institutional repositories or on their website) prior to and during the submission process, as it can lead to productive exchanges, as well as earlier and greater citation of published work (See The Effect of Open Access).