CURRENT PRACTICES IN AQUATIC ANIMAL SUPPLEMENTATION
Abstract
Aquatic animals have been managed under human care for centuries. Limitations in the variety of foods available to feed to these animals, as well as the use of frozen fish products in current dietary protocols makes supplementation of some nutrients necessary.  Limited research has been performed related to species specific requirements for vitamins or minerals and there are few standardized recommendations for these species other than for thiamin and vitamin E, for which recommendations are based on deficiencies created under controlled situations in pinnipeds.  In recent years, advances have been made in the way fish are caught, processed, stored, thawed and fed to animals. Additionally many facilities analyze their feeder fish items for caloric content and base their diets on calories consumed instead of strictly on an as fed weight basis. However, vitamin supplementation practices often have not been modified to reflect these changes. Finally, more recent nutritional concerns have arisen; many facilities have experienced cases of iron storage disease in both pinniped and cetacean species and vitamin C supplementation may contribute to this pathology by enhancing the absorption of dietary iron.
An Aquatic Animal Nutritional Survey was distributed to zoos and aquariums worldwide focusing on marine mammals, penguins and sharks.  Results were returned from over 70 facilities. The range of supplements being fed to aquatic animals is significant and much of the variation is due to the manner in which supplements are being dosed. Although over-supplementation of water soluble vitamins may be tolerated by these species, over-supplementation of some fat soluble vitamins is potentially harmful. These data can inform and be used to improve feeding practices of aquatic animals.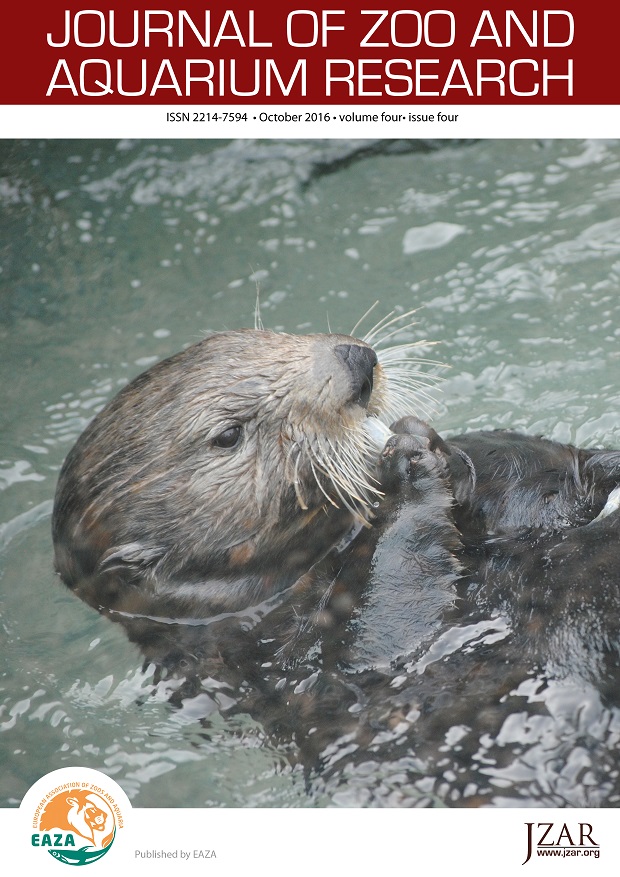 Additional Files
How to Cite
Mazzaro, L., Koutsos, E., & Williams, J. (2016). CURRENT PRACTICES IN AQUATIC ANIMAL SUPPLEMENTATION. Journal of Zoo and Aquarium Research, 4(4), 202–208. https://doi.org/10.19227/jzar.v4i4.202
License
Authors who publish with this journal agree to the following terms:
Authors retain copyright and grant the journal right of first publication with the work simultaneously licensed under a Creative Commons Attribution License that allows others to share the work with an acknowledgement of the work's authorship and initial publication in this journal.
Authors are able to enter into separate, additional contractual arrangements for the non-exclusive distribution of the journal's published version of the work (e.g., post it to an institutional repository or publish it in a book), with an acknowledgement of its initial publication in this journal.
Authors are permitted and encouraged to post their work online (e.g., in institutional repositories or on their website) prior to and during the submission process, as it can lead to productive exchanges, as well as earlier and greater citation of published work (See The Effect of Open Access).