Pygmy Slow Loris (<em>Nycticebus pygmaeus</em>) European Zoo Diet Survey Results
Abstract
The captive population of Pygmy slow loris (Nycticebus pygmaeus) in European zoos is managed by a European Endangered Species Programme (EEP). However, there are so far no available nutrient recommendations for this species. With the consent of the Prosimian Taxon Advisory Group (TAG), a nutrition questionnaire was circulated to the 39 EEP participants asking about the ingredients for their N. pygmaeus diets, presentation, and related health issues. Only 16 replied (41%), 15 of which included adequate nutritional information. The replies revealed that diets in practice reflect the lack of guidelines and are not based on research evidence that N. pygmaeus is an exudativore, feeding on gum, nectar and insects. Therefore none of the reported diets are appropriate or conducive to optimum health and welfare. Nutrition guidelines are essential to improve the husbandry of all lorisid taxa kept in zoos.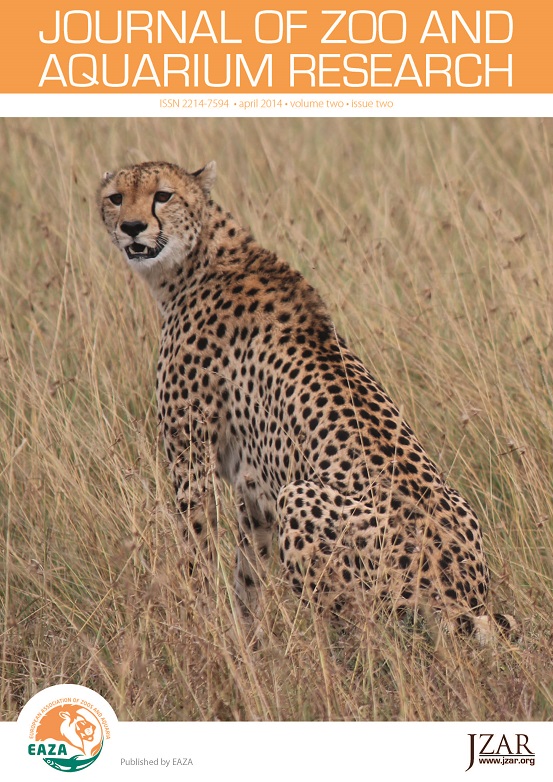 Downloads
How to Cite
Cabana, F. (2014). Pygmy Slow Loris (<em>Nycticebus pygmaeus</em>) European Zoo Diet Survey Results. Journal of Zoo and Aquarium Research, 2(2), 39–43. https://doi.org/10.19227/jzar.v2i2.52
License
Authors who publish with this journal agree to the following terms:
Authors retain copyright and grant the journal right of first publication with the work simultaneously licensed under a Creative Commons Attribution License that allows others to share the work with an acknowledgement of the work's authorship and initial publication in this journal.
Authors are able to enter into separate, additional contractual arrangements for the non-exclusive distribution of the journal's published version of the work (e.g., post it to an institutional repository or publish it in a book), with an acknowledgement of its initial publication in this journal.
Authors are permitted and encouraged to post their work online (e.g., in institutional repositories or on their website) prior to and during the submission process, as it can lead to productive exchanges, as well as earlier and greater citation of published work (See The Effect of Open Access).