Effect of diet type on serum and faecal concentration of S100/calgranulins in the captive cheetah
Abstract
Gastrointestinal disease is omnipresent in captive cheetahs (Acinonyx jubatus), in contrast to its free-ranging populations. The current study aimed to evaluate the effect of diet type (meat-only whole prey) on gastrointestinal health in captive cheetahs by measuring faecal and serum concentrations of S100/calgranulins. This paper reports faecal S100A12 and calprotectin concentrations in 12 captive cheetahs fed supplemented beef versus whole rabbit for one month in a cross-over design. Also, serum S100A12 and calprotectin concentrations were determined in four cheetahs fed whole rabbit and six cheetahs fed supplemented beef, and these were compared to the faecal concentrations of the respective marker proteins. Both the immunoassay for canine calprotectin and canine S100A12 were precise and reproducible for use with serum samples and faecal extracts. Whereas the assay for S100A12 was linear and accurate, an inconsistent linearity of the canine calprotectin assay was observed and could be indicative of an insufficient cross-reactivity of the specific antibody used for this assay. Serum concentrations of S100A12 and calprotectin were not altered by diet type, and were not correlated with the respective concentrations in faeces. Numerically (P=0.241) greater calprotectin concentrations and greater (P=0.041) faecal S100A12 concentrations were detected in cheetahs fed supplemented beef compared with whole rabbit. These findings demonstrate that whole prey feeding may decrease intestinal inflammation in the captive cheetah. Consequently, the relation between diet type and intestinal inflammatory conditions in the captive cheetah warrants further investigation.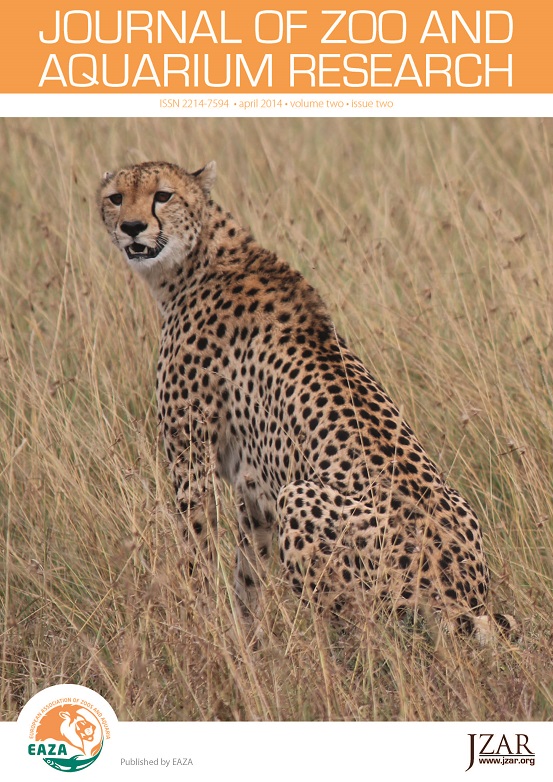 Downloads
How to Cite
Depauw, S., Heilmann, R. M., Whitehouse-Tedd, K., Hesta, M., Steiner, J. M., Suchodolski, J. S., & Janssens, G. P. (2014). Effect of diet type on serum and faecal concentration of S100/calgranulins in the captive cheetah. Journal of Zoo and Aquarium Research, 2(2), 33–38. https://doi.org/10.19227/jzar.v2i2.81
License
JZAR fulfils the DOAJ definition of open access and provides free and open access to the full text of all content without delay under a Creative Commons licence. The copyright holder of JZAR publications grants usage rights to third parties, allowing for immediate free access to the work and permitting any user to read, download, copy, distribute, print, search, or link to the full texts of articles.