Felid-gamete-rescue within EAZA - efforts and results in biobanking felid oocytes and sperm
Keywords:
Feliday, Gamete banking, assisted reproductive technologies, conservation
Abstract
The combination of gamete banking, defined as the preservation of gametes and gonads and assisted reproductive techniques (ART) such as, artificial insemination, in vitro fertilisation and embryo transfer is an important tool to preserve the genetic variety of endangered species. It not only can reduce the huge problem of limited space for large populations in zoos, but might facilitate conservation breeding and helps to overcome barriers between in situ and ex situ populations. Within the Felid-Gamete-Rescue-Project we aim to save and store gametes of all felids species and improve the methods of in vitro embryo production, including in vitro maturation and fertilisation of oocytes and sperm storage. Gonads of 74 females and 67 males from 36 different zoological institutions were donated to the project. The majority of samples (86/141) originated from individuals either up to two years old or older than 13 years of age. Epididymal sperm from 42 males (63%) was suitable for collection and 36 males (54%) for freezing. Sperm quality and quantity was sufficient for the demands of artificial insemination in 21% of males, whereas almost all cryopreserved samples can be used for ICSI. 1110 oocytes could be retrieved from 62 females (84%) and 277 (25%) oocytes matured in vitro. 47 embryos could be generated after in vitro maturation and in vitro fertilisation, among them nine highly valuable embryos from Asiatic Golden cat and Northern Chinese leopards. Zoos are strongly encouraged to offer available gametes to the gamete bank and consider the potential benefit of artificial insemination and embryo transfer for their breeding programs.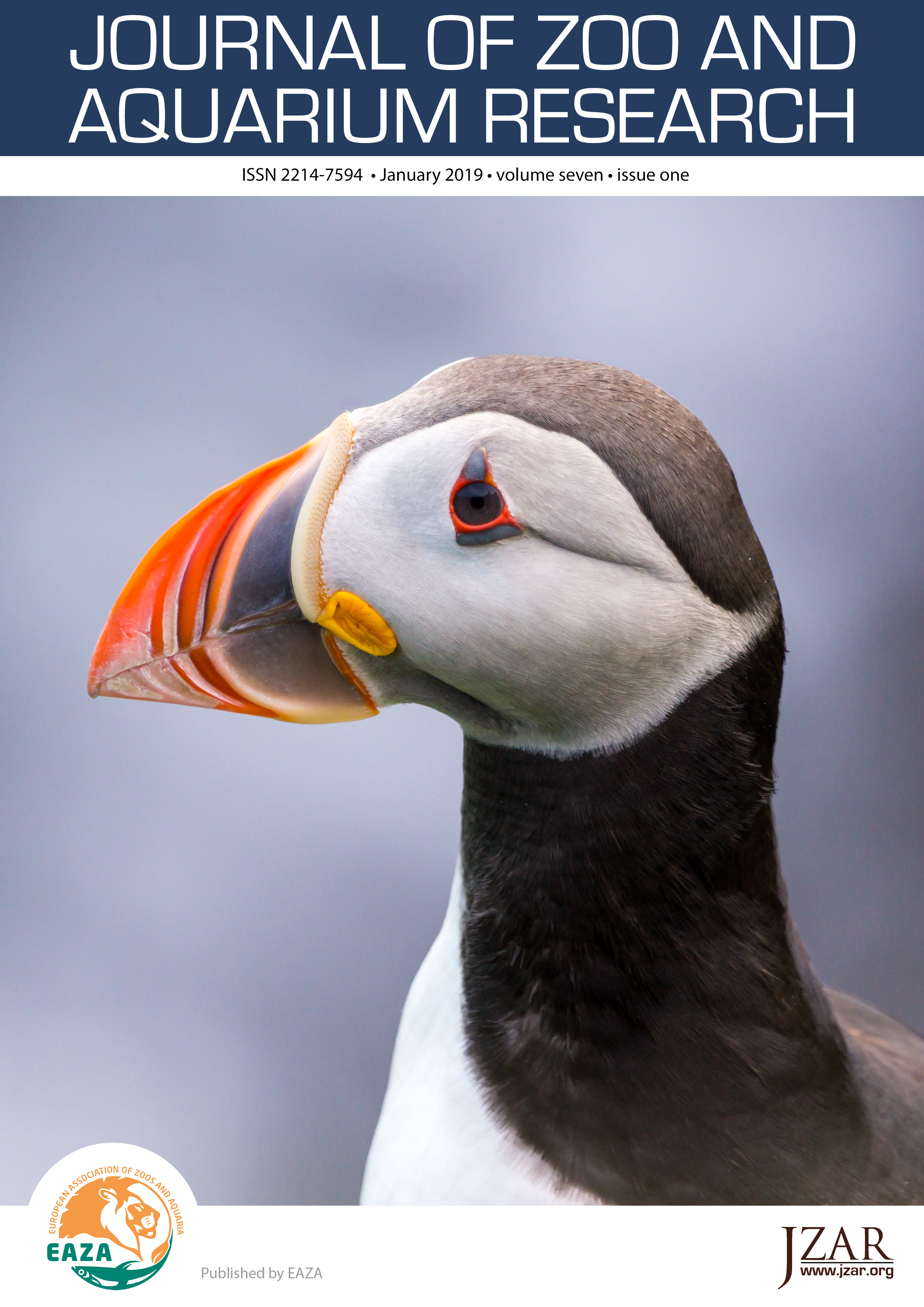 Downloads
How to Cite
Zahmel, J., Fernandez-Gonzalez, L., Jewgenow, K., & Müller, K. (2019). Felid-gamete-rescue within EAZA - efforts and results in biobanking felid oocytes and sperm. Journal of Zoo and Aquarium Research, 7(1), 15–24. https://doi.org/10.19227/jzar.v7i1.369
License
Authors who publish with this journal agree to the following terms:
Authors retain copyright and grant the journal right of first publication with the work simultaneously licensed under a Creative Commons Attribution License that allows others to share the work with an acknowledgement of the work's authorship and initial publication in this journal.
Authors are able to enter into separate, additional contractual arrangements for the non-exclusive distribution of the journal's published version of the work (e.g., post it to an institutional repository or publish it in a book), with an acknowledgement of its initial publication in this journal.
Authors are permitted and encouraged to post their work online (e.g., in institutional repositories or on their website) prior to and during the submission process, as it can lead to productive exchanges, as well as earlier and greater citation of published work (See The Effect of Open Access).