Asymmetric reproductive aging in cheetah (Acinonyx jubatus) females in European zoos
Keywords:
cheetah, captivity, reproduction, stress, suppression
Abstract
For conservation breeding and management, such as re-introduction programs, reproductively healthy animals are essential. Low reproductive performance in captive animals is therefore of great concern in species which are judged to be vulnerable or endangered in the wild. Hence, it is important to understand the mechanisms that lead to low reproductive performance in captivity. Here we use a long-term study on captive cheetah females as an example to test predictions derived from three hypotheses –, the captive 'stress', captive reproductive suppression and asymmetric reproductive aging hypotheses. Parous and nulliparous cheetah females did not differ in their faecal glucocorticoid concentrations, suggesting that allostatic load ('stress') did not affect reproductive performance. Consistent with the captive reproduction suppression hypothesis, females permanently kept together with other adult females (or males) did not reproduce until they were individually introduced to a single male when in estrus. Instead, reproductive performance of twelve cheetah females kept in zoological gardens and followed throughout their lifetime was determined by their age and reproductive history, as predicted by the asymmetric reproductive aging hypothesis. Asymmetric reproductive aging arises when first breeding attempts and first pregnancies of females are substantially delayed, thereby ensuring frequent cycle fluctuations of oestrogen concentrations which subsequently result in reproductive tract pathologies. Our results suggest that conservation breeding facilities should breed cheetah females as early as possible, keep them separate from adult males or other females and introduce them to single males for breeding purposes when in estrus only.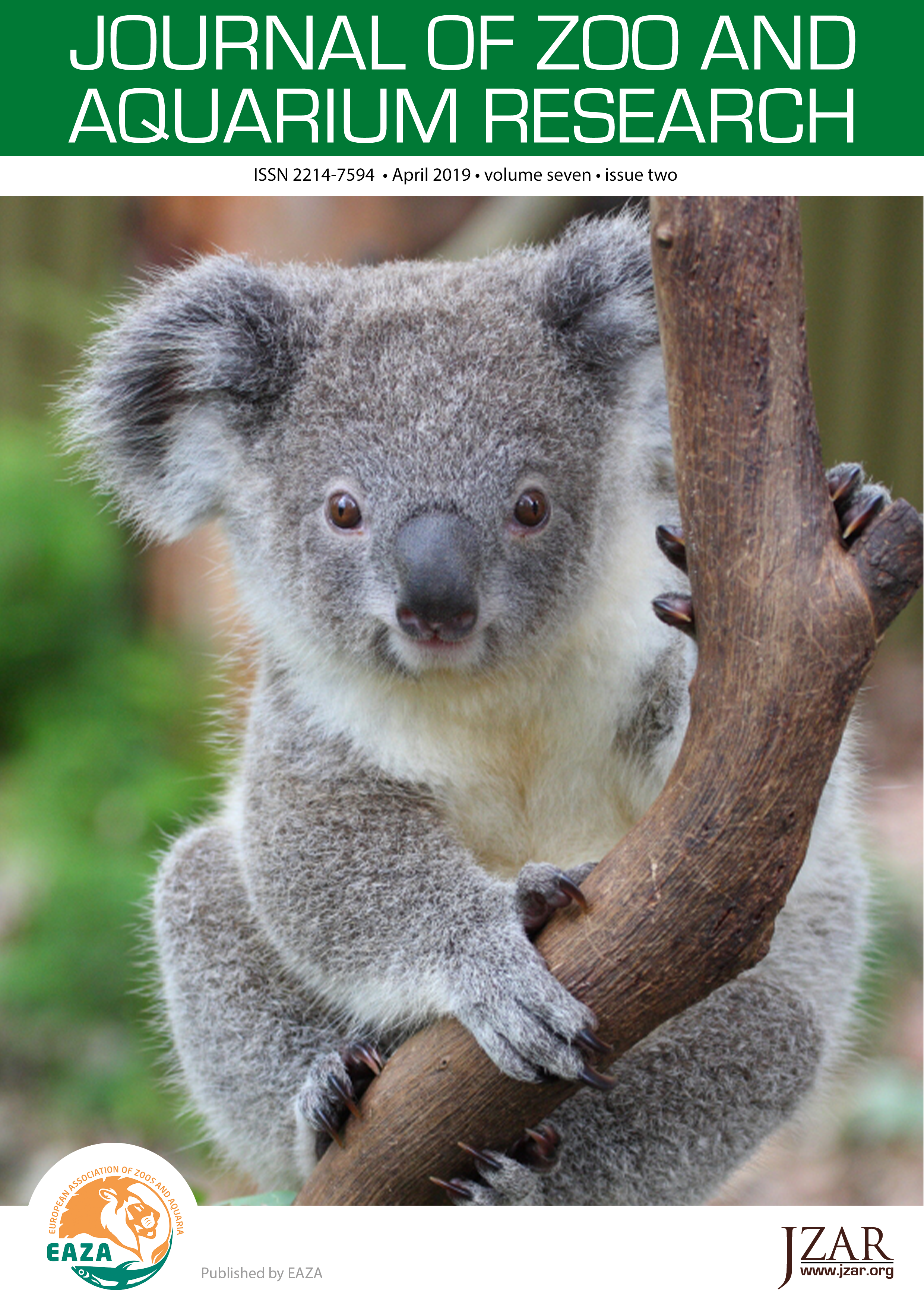 Downloads
How to Cite
Ludwig, C., Dehnhard, M., Pribbenow, S., Silinski-Mehr, S., Hofer, H., & Wachter, B. (2019). Asymmetric reproductive aging in cheetah (Acinonyx jubatus) females in European zoos. Journal of Zoo and Aquarium Research, 7(2), 87–93. https://doi.org/10.19227/jzar.v7i2.382
License
Authors who publish with this journal agree to the following terms:
Authors retain copyright and grant the journal right of first publication with the work simultaneously licensed under a Creative Commons Attribution License that allows others to share the work with an acknowledgement of the work's authorship and initial publication in this journal.
Authors are able to enter into separate, additional contractual arrangements for the non-exclusive distribution of the journal's published version of the work (e.g., post it to an institutional repository or publish it in a book), with an acknowledgement of its initial publication in this journal.
Authors are permitted and encouraged to post their work online (e.g., in institutional repositories or on their website) prior to and during the submission process, as it can lead to productive exchanges, as well as earlier and greater citation of published work (See The Effect of Open Access).