The effect of a diet change on regurgitation and reingestion in captive chimpanzees
Abstract
Captive chimpanzees regularly show abnormal behaviour, including regurgitation and reingestion (R/R). R/R may have several causes, among them a suboptimal diet. For this reason, the effect of a diet change towards a more fibre-rich diet on R/R was studied in the Amersfoort Zoo chimpanzee group comprising 15 individuals. In addition, the relationship with self-directed behaviour, inactivity level and temperature, proxies of the alternative factors stress, boredom and crowding, were studied. Measures of stress and boredom did not show any correlation to R/R behaviour. The new diet did result in less R/R. However, the data could not conclusively dismiss temperature as a factor or confound in the reduction of R/R. Still, the R/R rate in three individuals that showed most R/R did not concur with temperature, countering an effect of temperature on R/R. Individuals that showed R/R in the study period still showed this behaviour several years later, suggesting that R/R may not be related to current welfare but possibly become a habit, where stress and R/R become dissociated and the behaviour persists in improved conditions and over time. This study shows that diet change can contribute to a reduction in R/R, yet this may not be due to the change of diet quality, but to the change in diet as such. The change in diet was not able to abolish R/R behaviour entirely for these chimpanzees.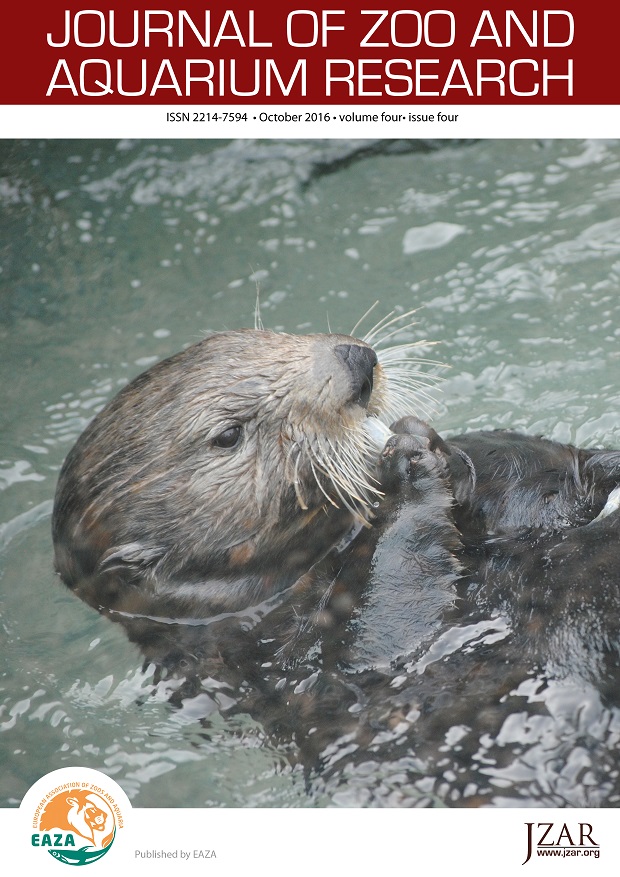 Downloads
How to Cite
Mulder, I., van der Meer, R., de Vries, H., & Sterck, E. H. M. (2016). The effect of a diet change on regurgitation and reingestion in captive chimpanzees. Journal of Zoo and Aquarium Research, 4(4), 196–201. https://doi.org/10.19227/jzar.v4i4.185
License
Authors who publish with this journal agree to the following terms:
Authors retain copyright and grant the journal right of first publication with the work simultaneously licensed under a Creative Commons Attribution License that allows others to share the work with an acknowledgement of the work's authorship and initial publication in this journal.
Authors are able to enter into separate, additional contractual arrangements for the non-exclusive distribution of the journal's published version of the work (e.g., post it to an institutional repository or publish it in a book), with an acknowledgement of its initial publication in this journal.
Authors are permitted and encouraged to post their work online (e.g., in institutional repositories or on their website) prior to and during the submission process, as it can lead to productive exchanges, as well as earlier and greater citation of published work (See The Effect of Open Access).