Haematology and serum biochemistry parameters in vaccinated versus unvaccinated captive Cuvier's gazelles: Implications for zoo management practices
Abstract
Wild ungulates kept in captivity have become increasingly important as stock for conservation and study. Routine preventive treatment and vaccination is used to reduce parasite density and/or minimize parasite transmission in multispecies captive facilities such as zoos. But vaccination also has disadvantages: animals are not allowed to develop a natural immune response, commensal parasites performing beneficial roles are also removed, handling the host species is difficult, and so forth. Even more problems arise when captive wild animals are bred for reintroduction into the wild, as the use of parasite-naïve individuals may lead to failure. In this study we evaluate the need for such treatment in a Cuvier's gazelle captive population. Our results show that there are no major differences in body weight or health status between sanitized (wormed and vaccinated) individuals and those that are not. These results challenge the need for routine preventive vaccination in wild animals in captivity. We suggest that the advantages and disadvantages of vaccination of the studied population be weighed and balanced, and recommend that in absence of symptoms, regular coprological analysis be performed, vaccinating only when the parasite burden becomes pathological.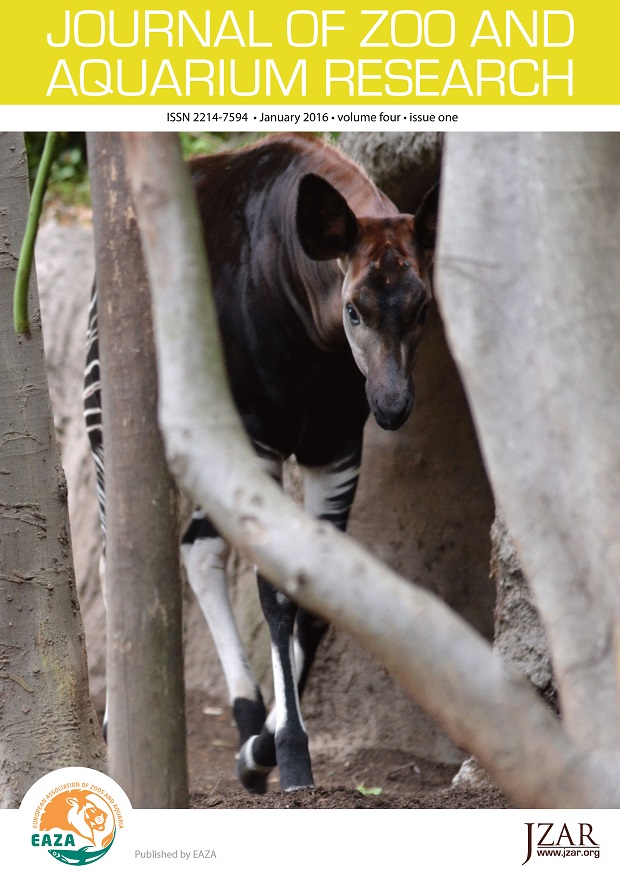 Downloads
How to Cite
Ibáñez, B., De Andrés-Cara, D. F., & Moreno, E. (2016). Haematology and serum biochemistry parameters in vaccinated versus unvaccinated captive Cuvier's gazelles: Implications for zoo management practices. Journal of Zoo and Aquarium Research, 4(1), 1–6. https://doi.org/10.19227/jzar.v4i1.157
License
Authors who publish with this journal agree to the following terms:
Authors retain copyright and grant the journal right of first publication with the work simultaneously licensed under a Creative Commons Attribution License that allows others to share the work with an acknowledgement of the work's authorship and initial publication in this journal.
Authors are able to enter into separate, additional contractual arrangements for the non-exclusive distribution of the journal's published version of the work (e.g., post it to an institutional repository or publish it in a book), with an acknowledgement of its initial publication in this journal.
Authors are permitted and encouraged to post their work online (e.g., in institutional repositories or on their website) prior to and during the submission process, as it can lead to productive exchanges, as well as earlier and greater citation of published work (See The Effect of Open Access).