Survey of Reproduction and Calf Rearing in Asian and African Elephants in Europe.
Abstract
Acyclicity, conception failure, abortion, stillbirth, dystocia, infanticide and neonatal mortality have all been reported as causes of reproductive failure in zoo elephants. These events are often reported as single case reports or in specific studies focused on a particular stage in the reproductive process. In North America wider surveys of reproduction in the zoo elephant population have been completed and repeated to provide data over a number of years.
This study is the largest and most comprehensive study of reproduction in the European zoo elephant population to date. Two questionnaires collected data from throughout the reproductive process from assessing cyclicity to independence of the calf at 5 years old. Information was collected regarding 189 birth events.
Many causative and contributing factors such as obesity, infectious disease, husbandry, facilities, stress, behaviour, herd size and social grouping have been proposed. The importance of these was assessed and where possible association identified using statistical analysis.
In African elephants, this study found that age, obesity, reproductive pathology and dominance, identified as important risk factors for failure to conceive in the American zoo elephant population were of low importance. The most significant cause in Europe was lack of access to a compatible bull. In Asian elephants reproductive failure was much less common but when it did occur age and reproductive pathologies were significant factors as found in previous studies.
Previous studies have found that age, obesity and infanticide were considered as the most important risk factors in the period from birth to rearing. In this survey it was found that herd stability and compatibility, allomothering or maternal experience and management at parturition can significantly influence reproductive success. Elephant Endotheliotropic Herpes virus was confirmed as the biggest cause of calf mortality.
This work provides evidence to support changes to elephant management in European zoos in order to encourage development of social and affiliative herd behaviours and improve reproductive success.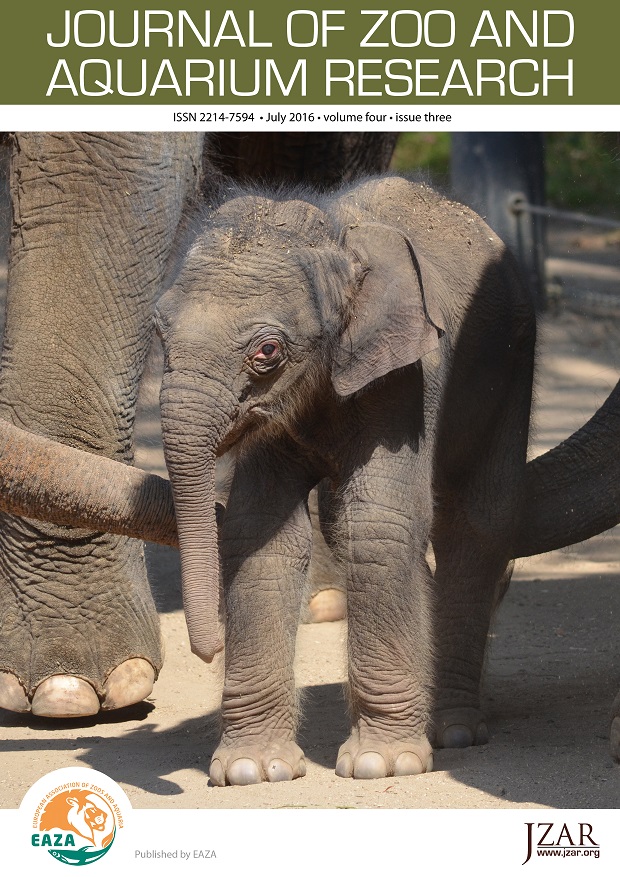 Downloads
How to Cite
Hartley, M., & Stanley, C. (2016). Survey of Reproduction and Calf Rearing in Asian and African Elephants in Europe. Journal of Zoo and Aquarium Research, 4(3), 139–146. https://doi.org/10.19227/jzar.v4i3.161
License