Assessing Risk Factors for Reproductive Failure and Associated Welfare Impacts in Elephants in European Zoos
Abstract
Reproductive failure in elephants is thought to be caused or influenced by a range of factors such as obesity, infectious disease, husbandry, facilities, stress, behaviour, maternal experience, herd size and social grouping.  Due to the low reproductive activity of the small zoo elephant population, scientific study into the relative importance of these factors is limited.

This study takes an epidemiological approach using risk analysis methodologies to collate information from expert opinion, data set analysis and a targeted questionnaire to identify and assess a range of physical, behavioural and husbandry based risk factors, which may affect reproductive success in elephants housed in European Zoos.

Much of our knowledge on reproduction in zoo elephant populations originates from North America where there are significant differences in herd structure, management practices, climate and mean age. By combining multiple sources of evidence including a large survey of reproduction in the European elephant population and eliciting expert opinion from scientists, zoo managers, veterinarians and keepers working with European zoo elephants in a structured, transparent and scientifically recognised process it has been possible to identify the most important causes of reproductive failure and assess the influence of a range of potential confounding factors.

Important causes of reproductive failure included lack of access to a compatible bull, herd stability and compatibility, allomothering or maternal experience, management practices at parturition and the impact of Elephant Endotheliotropic Herpes Virus.

This work is to be used in the development of evidence-based elephant management and welfare recommendations and highlights priority areas for further research.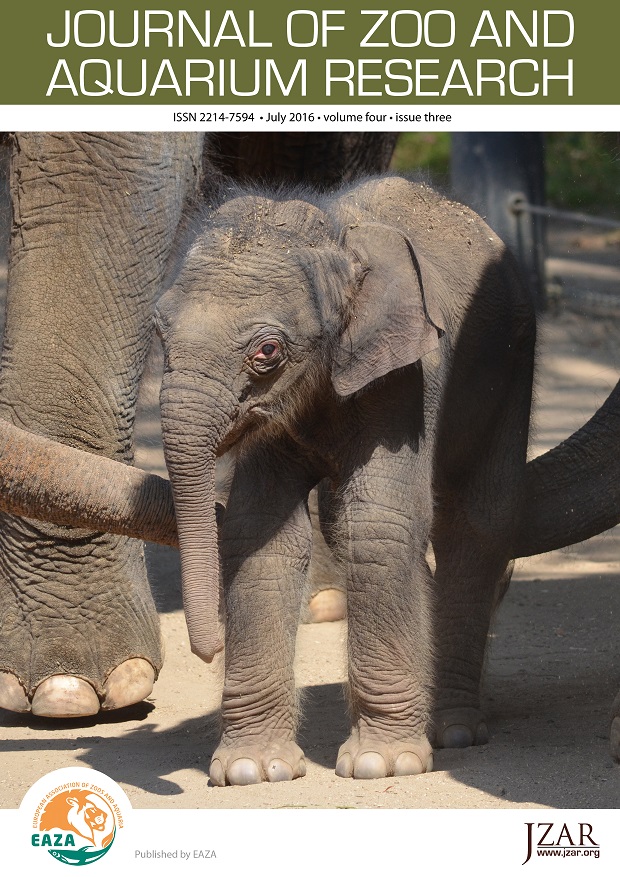 Downloads
How to Cite
Hartley, M. (2016). Assessing Risk Factors for Reproductive Failure and Associated Welfare Impacts in Elephants in European Zoos. Journal of Zoo and Aquarium Research, 4(3), 127–138. https://doi.org/10.19227/jzar.v4i3.162
License
Authors who publish with this journal agree to the following terms:
Authors retain copyright and grant the journal right of first publication with the work simultaneously licensed under a Creative Commons Attribution License that allows others to share the work with an acknowledgement of the work's authorship and initial publication in this journal.
Authors are able to enter into separate, additional contractual arrangements for the non-exclusive distribution of the journal's published version of the work (e.g., post it to an institutional repository or publish it in a book), with an acknowledgement of its initial publication in this journal.
Authors are permitted and encouraged to post their work online (e.g., in institutional repositories or on their website) prior to and during the submission process, as it can lead to productive exchanges, as well as earlier and greater citation of published work (See The Effect of Open Access).