Pre and Post Session Behaviour of Captive Bottlenose Dolphins Tursiops truncatus involved in "Swim-with-Dolphin" Events
Keywords:
human-animal interaction, animal welfare, tursiops truncatus, swim-with-dolphin
Abstract
Published studies suggest that some dolphins find swim-with-dolphin (SWD) enriching or are hardly affected by it, while others find this stressful. In this study we investigated whether there are behavioural changes in dolphins after controlled SWD sessions in comparison with periods immediately before the session or at times when no session is due; and whether these behavioural changes indicate enhanced or reduced welfare. The study was undertaken at Dolphin Academy in Curaçao, Netherlands Antilles, between May and June 2017. Thirteen dolphins were subjects, four male and nine females with ages ranging from 4yrs to 32yrs. Observations of dolphins took place in any of the five semi-open water pools and constituted of 30-minute focal animal sessions. These were timed to occur during the 30 minutes immediately before the start of a scheduled SWD session ('before'), during the 30 minutes immediately following the same session ('after'), and during a 30-minute period when the animal was not about to be part of a session or had not just finished a session ('control'). Sessions for observation were chosen opportunistically according to the timetable used by the facility. Two ethograms were used, one for state behaviours and one for event behaviours. A total of 184 30-minute observations periods were completed, divided between the three different conditions. A minimum of six before-after pairs was possible for all subjects except one dolphin. Multiple regression produced significant models for several behaviours, but the significant predictors were mostly the pool in which observations occurred or the presence of disturbance or trainers, but not condition. It appears in our study that the welfare of the dolphins was neither compromised nor improved by taking part in the SWD sessions. There is no evidence in our data that taking part in a SWD session in itself has any impact on the behaviour of the dolphins, but that in all conditions (before, after and control) they spend time responding to the presence of trainers or disturbance, both in their own pool and in neighbouring pools.  Further research should address the question whether the effects of disturbances and the presence of trainers are compromising or improving the welfare of the dolphins, and whether the increased interaction with trainers due to the SWD sessions is itself enriching for the animals.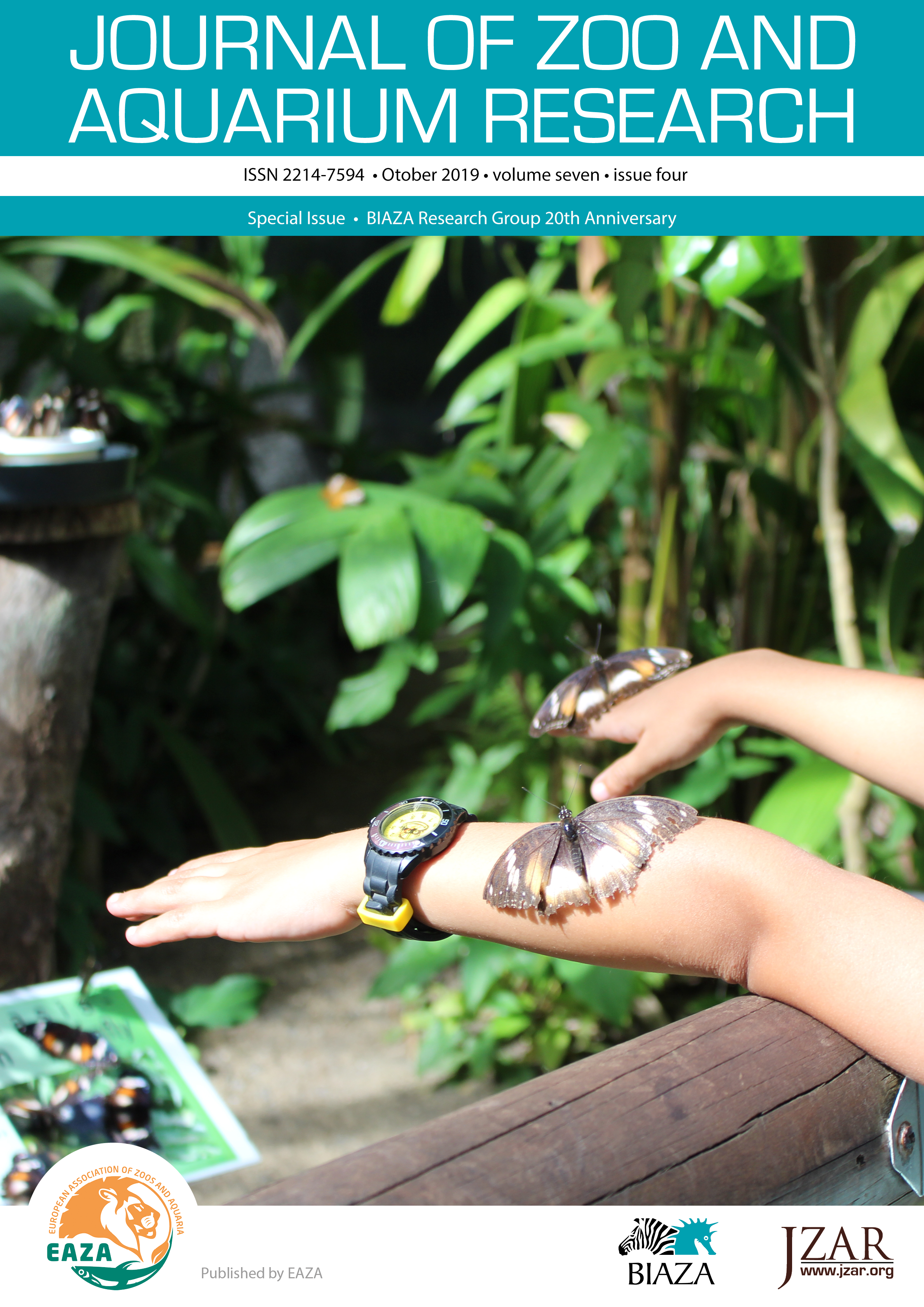 Downloads
How to Cite
Brando, S., Kooistra, N., & Hosey, G. (2019). Pre and Post Session Behaviour of Captive Bottlenose Dolphins Tursiops truncatus involved in "Swim-with-Dolphin" Events. Journal of Zoo and Aquarium Research, 7(4), 195–202. https://doi.org/10.19227/jzar.v7i4.440
License
JZAR fulfils the DOAJ definition of open access and provides free and open access to the full text of all content without delay under a Creative Commons licence. The copyright holder of JZAR publications grants usage rights to third parties, allowing for immediate free access to the work and permitting any user to read, download, copy, distribute, print, search, or link to the full texts of articles.