Status of animal welfare research in zoos and aquariums: Where are we, where to next?
Keywords:
animal welfare, aquariums, research, zoos
Abstract
Research into the conditions that promote good animal welfare is essential to equip zoos and aquariums with the knowledge to create environments in which animals thrive. In order to collate the empirical information that is available regarding animal welfare in zoos and aquariums with regard to topics, methods and species, a systematic literature review was conducted of the primary peer-reviewed journals publishing zoo-based and welfare-based research. Journals included Animal Welfare, Animals, Applied Animal Behaviour Science, International Zoo Yearbook, Journal of Applied Animal Welfare Science, Journal of Zoo and Aquarium Research, and Zoo Biology. The literature review spanned 2008–2017 and revealed that 7.6% (n=310) of reviewed publications (n=4,096) in these journals were zoo- or aquarium-based and animal-welfare focused. The main topics studied included enrichment, social conditions and enclosure design, while understudied topics included the welfare of ambassador animals, and the welfare impacts of sound and light. Behaviour was by far the dominant welfare parameter used and the use of hormonal measures declined over this period. Taxonomic representation in these publications was notably skewed. Mammals were the focus of 75% of studies, and 82% of studies were vertebrate-focused (great apes being the dominant taxa). This study considers potential reasons for these patterns and highlights research areas for future emphasis that could serve to fill gaps in current knowledge regarding zoo and aquarium animal welfare, including more research into affective states that underlie an animal's welfare status.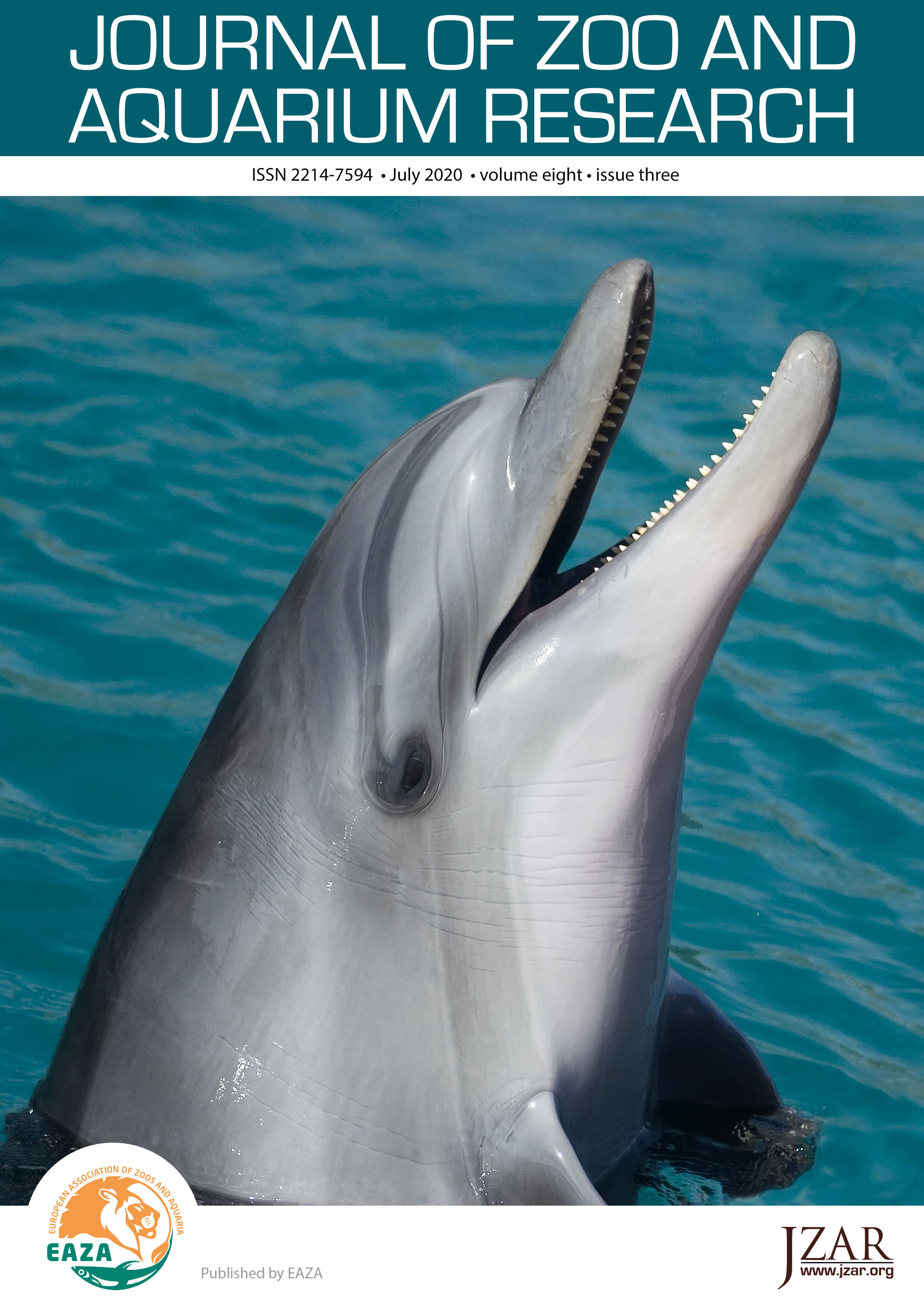 Downloads
How to Cite
Binding, S., Farmer, H., Krusin, L., & Cronin, K. (2020). Status of animal welfare research in zoos and aquariums: Where are we, where to next?. Journal of Zoo and Aquarium Research, 8(3), 166-174. https://doi.org/10.19227/jzar.v8i3.505
License
Authors who publish with this journal agree to the following terms:
Authors retain copyright and grant the journal right of first publication with the work simultaneously licensed under a Creative Commons Attribution License that allows others to share the work with an acknowledgement of the work's authorship and initial publication in this journal.
Authors are able to enter into separate, additional contractual arrangements for the non-exclusive distribution of the journal's published version of the work (e.g., post it to an institutional repository or publish it in a book), with an acknowledgement of its initial publication in this journal.
Authors are permitted and encouraged to post their work online (e.g., in institutional repositories or on their website) prior to and during the submission process, as it can lead to productive exchanges, as well as earlier and greater citation of published work (See The Effect of Open Access).