Using evaluation to prove or to improve? An international, mixed-method investigation into zoos' formal education evaluation practices.
Abstract
This study was a mixed-method investigation into zoos' education evaluation practices. The first phase of the research involved an online questionnaire in which 176 zoos across 48 countries reported their evaluation practices. The second phase comprised nine case studies, enabling direct, in-depth observation of each site within its context, including face-to-face zoo education staff interviews. Taken together, the two phases of this research offer a revealing analysis of current evaluation practice within zoos. The research indicates that zoo education staff understand evaluation and its application within formal zoo education programmes. However, zoo staff noted several barriers to regular evaluation including time, cost and know-how. The majority of case study zoos indicated that their education programmes are guided primarily by school curriculum to be attractive to teachers and link with student learning. The research also suggests that educational programme evaluations in zoos focus mostly on participant satisfaction to ensure teacher expectations are met; educational outcomes for students are rarely addressed. Rather, informal measures including observations and anecdotes are heavily utilised within zoos across all regions, and zoos noted that information gained through formal satisfaction surveys and more informal evaluation processes was used to inform current and future programmes. School return visits and participation rates were also considered important indicators of programme success. However, whilst some case study sites had conducted formal satisfaction surveys, the results had not been analysed or utilised for programme revision or development. Thus, whilst there is a general understanding of evaluation, a strong focus on visitor satisfaction and participation seems to dominate evaluation practice within zoos. There seemed to be little evaluation focused on programme success in terms of the extent to which educational goals are achieved. The implications of these findings and suggestions for future research are discussed.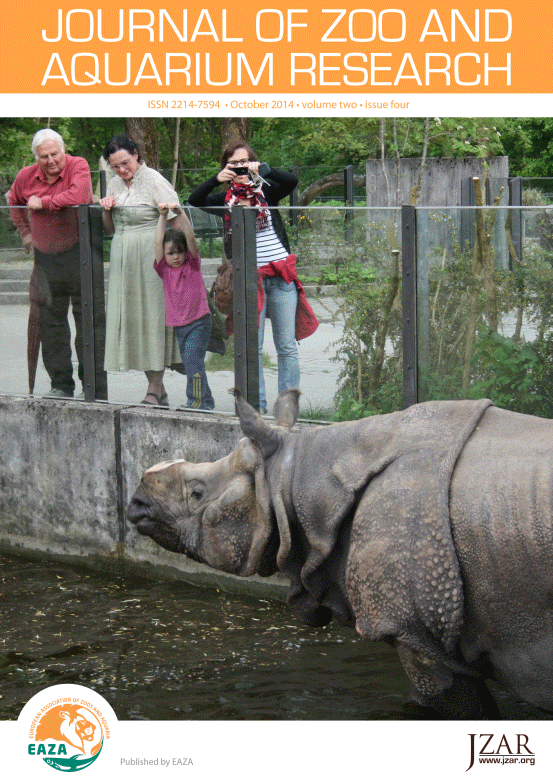 Downloads
How to Cite
Roe, K., McConney, A., & Mansfield, C. (2014). Using evaluation to prove or to improve? An international, mixed-method investigation into zoos' formal education evaluation practices. Journal of Zoo and Aquarium Research, 2(4), 108–116. https://doi.org/10.19227/jzar.v2i4.67
License
Authors who publish with this journal agree to the following terms:
Authors retain copyright and grant the journal right of first publication with the work simultaneously licensed under a Creative Commons Attribution License that allows others to share the work with an acknowledgement of the work's authorship and initial publication in this journal.
Authors are able to enter into separate, additional contractual arrangements for the non-exclusive distribution of the journal's published version of the work (e.g., post it to an institutional repository or publish it in a book), with an acknowledgement of its initial publication in this journal.
Authors are permitted and encouraged to post their work online (e.g., in institutional repositories or on their website) prior to and during the submission process, as it can lead to productive exchanges, as well as earlier and greater citation of published work (See The Effect of Open Access).