Research and Research Training in BIAZA Zoos and Aquariums
Keywords:
zoo research; zoo research training; peer-reviewed publications.
Abstract
The BIAZA research database is a spreadsheet containing details which member collections submit about research (postgraduate and professional) and research training (up to undergraduate) projects being undertaken within their collection. The database contains information on 4816 projects since 1969, and these have here been analysed to discern trends in numbers, taxa and subjects studied, academic institutions and collections involved. Additionally a literature search has been carried out to identify the number of peer-reviewed publications generated from this research. Thirty-eight collections contributed information to the database (31.4% of BIAZA membership). Both research and research training projects have increased substantially since 2000, which parallels a growth in animal care/welfare/behaviour courses in academic institutions. Projects in both categories are skewed heavily towards behavioural studies on mammals, with smaller numbers of projects on members of other taxa, or other topics. A small number of zoos and academic institutions are responsible for the majority of projects in both categories, although the number of academic institutions that have carried out projects in BIAZA zoos is very large (n=246 in 18 different countries). The number of projects which eventually get published in the peer-reviewed literature, however, is very small. It is concluded that more needs to be done to encourage greater participation in the publication of research, and to promote a wider diversity of topics and taxa studied.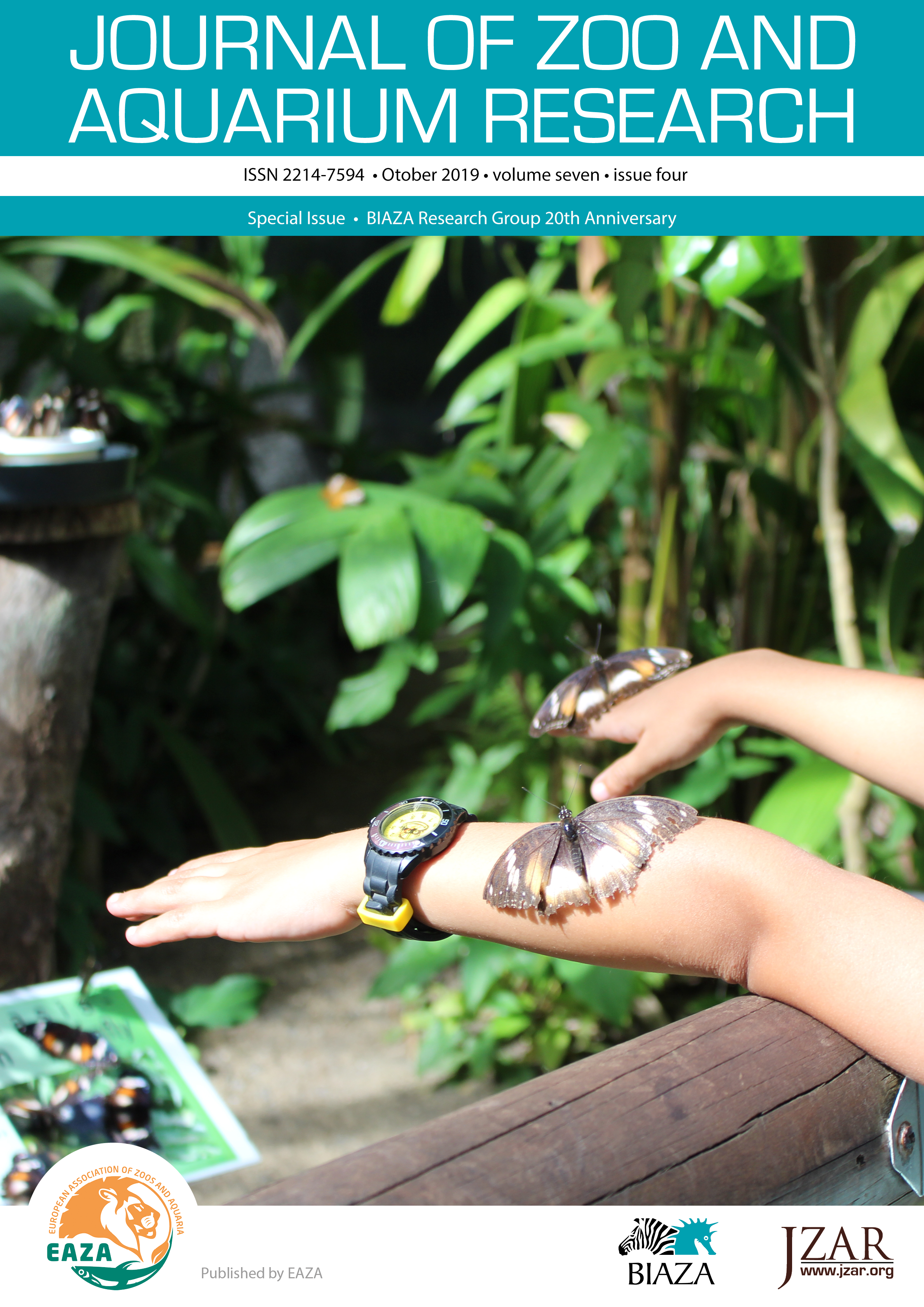 Downloads
How to Cite
Hosey, G., Harley, J., & Ward, S. (2019). Research and Research Training in BIAZA Zoos and Aquariums. Journal of Zoo and Aquarium Research, 7(4), 210–217. https://doi.org/10.19227/jzar.v7i4.458
License
Authors who publish with this journal agree to the following terms:
Authors retain copyright and grant the journal right of first publication with the work simultaneously licensed under a Creative Commons Attribution License that allows others to share the work with an acknowledgement of the work's authorship and initial publication in this journal.
Authors are able to enter into separate, additional contractual arrangements for the non-exclusive distribution of the journal's published version of the work (e.g., post it to an institutional repository or publish it in a book), with an acknowledgement of its initial publication in this journal.
Authors are permitted and encouraged to post their work online (e.g., in institutional repositories or on their website) prior to and during the submission process, as it can lead to productive exchanges, as well as earlier and greater citation of published work (See The Effect of Open Access).