The effect of the zoo setting on the behavioural diversity of captive gentoo penguins and the implications for their educational potential
Abstract
Investigations into the effect of the captive environment on zoo and aquarium-housed animals is now a well-established area of research, yet little attention is given to the effect of these animals on zoo visitors. It has been suggested that some animals have a greater ability to attract and thus educate visitors, but there is a dearth of information in this area. Furthermore, before a captive species' educational potential can be determined, its response to the zoo environment should be investigated to ensure its welfare. The current study first considered the effect of visitor presence and environmental enrichment on the behavioural diversity levels of aquarium-housed gentoo penguins (Pygoscelis papua), with particular attention given to pool-use and nesting behaviour. Then, based on the animals' response to the visitors and enrichment, we consider the educational potential of the penguin group. Data were obtained through scan samples taken throughout the breeding season. Results indicate that visitor number affects behavioural diversity levels, with higher numbers of visitors associated with greater behavioural diversity and pool use by penguins. However, neither visitor behaviour nor enrichment appeared to affect behavioural diversity. Nesting behaviour was not affected by any of the variables that were tested. Based on these results we conclude that the penguins at this aquarium have a high educational potential. The results of this study suggest that future research should consider the use of interactive enrichment and how captive penguins may further enhance visitor learning.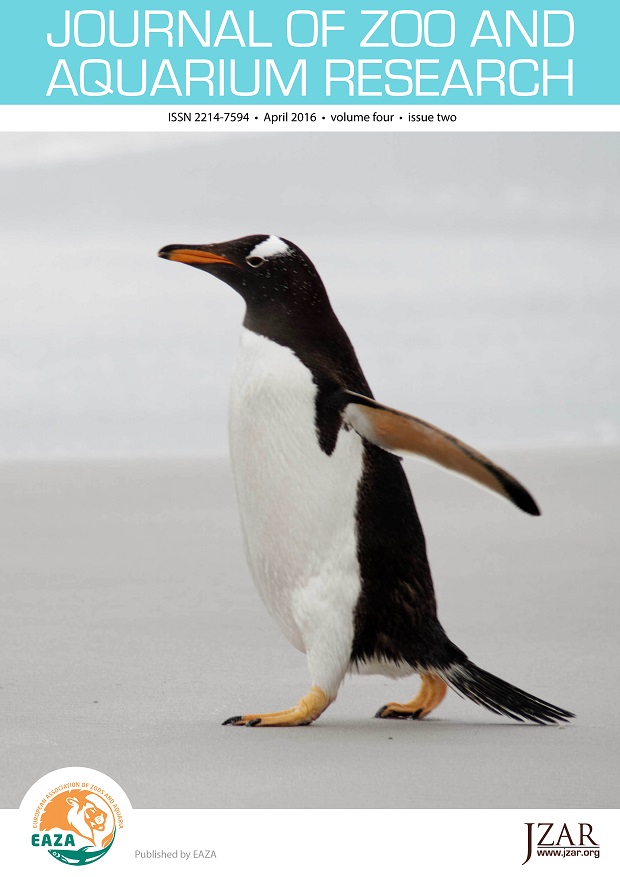 Downloads
How to Cite
Collins, C. K., Quirke, T., Overy, L., Flannery, K., & O'Riordan, R. (2016). The effect of the zoo setting on the behavioural diversity of captive gentoo penguins and the implications for their educational potential. Journal of Zoo and Aquarium Research, 4(2), 85–90. https://doi.org/10.19227/jzar.v4i2.158
License
Authors who publish with this journal agree to the following terms:
Authors retain copyright and grant the journal right of first publication with the work simultaneously licensed under a Creative Commons Attribution License that allows others to share the work with an acknowledgement of the work's authorship and initial publication in this journal.
Authors are able to enter into separate, additional contractual arrangements for the non-exclusive distribution of the journal's published version of the work (e.g., post it to an institutional repository or publish it in a book), with an acknowledgement of its initial publication in this journal.
Authors are permitted and encouraged to post their work online (e.g., in institutional repositories or on their website) prior to and during the submission process, as it can lead to productive exchanges, as well as earlier and greater citation of published work (See The Effect of Open Access).