Space Use and Enrichment in a North American River Otter (Lontra canadensis) Exhibit
Keywords:
Lontra canadensis, otters, exhibit space use, environmental enrichment, SPI score
Abstract
Exhibit design and environmental enrichment can influence the space use of captive animals. On May 2, 2014, the Tennessee Aquarium opened a new, expanded North American river otter (Lontra canadensis) exhibit, "River Otter Falls." The exhibit housed 6 otters (5 male and 1 female). A group of three otters was rotated in the exhibit every 2-2 ½ hours. Using a scan sampling procedure with 30 second intervals, the location and number of the otters was marked in one 9 areas of the exhibit. The number of otters not visible was also counted. The study lasted for 4 months, with 43 sessions each lasting ~45 min. The results showed that the otters tended to use all areas of the exhibit rather than confining themselves to one or a few areas. (total SPI = 0.35) and were visible 98% of the time. G-tests showed that the otters were using the areas significantly different from chance with variations in how they are using each individual area of the exhibit. Comparisons of the visibility and location after enrichment showed that the otters tended to use the exhibit less uniformly during enrichment, but increased time spent in areas of the exhibit with greater visibility and proximity to guests. During enrichment sessions, otters were more visible in the areas of the tank that visitors may see most easily, empathizing the role that enrichment can have on space use of an enclosure and visibility of animals in captivity.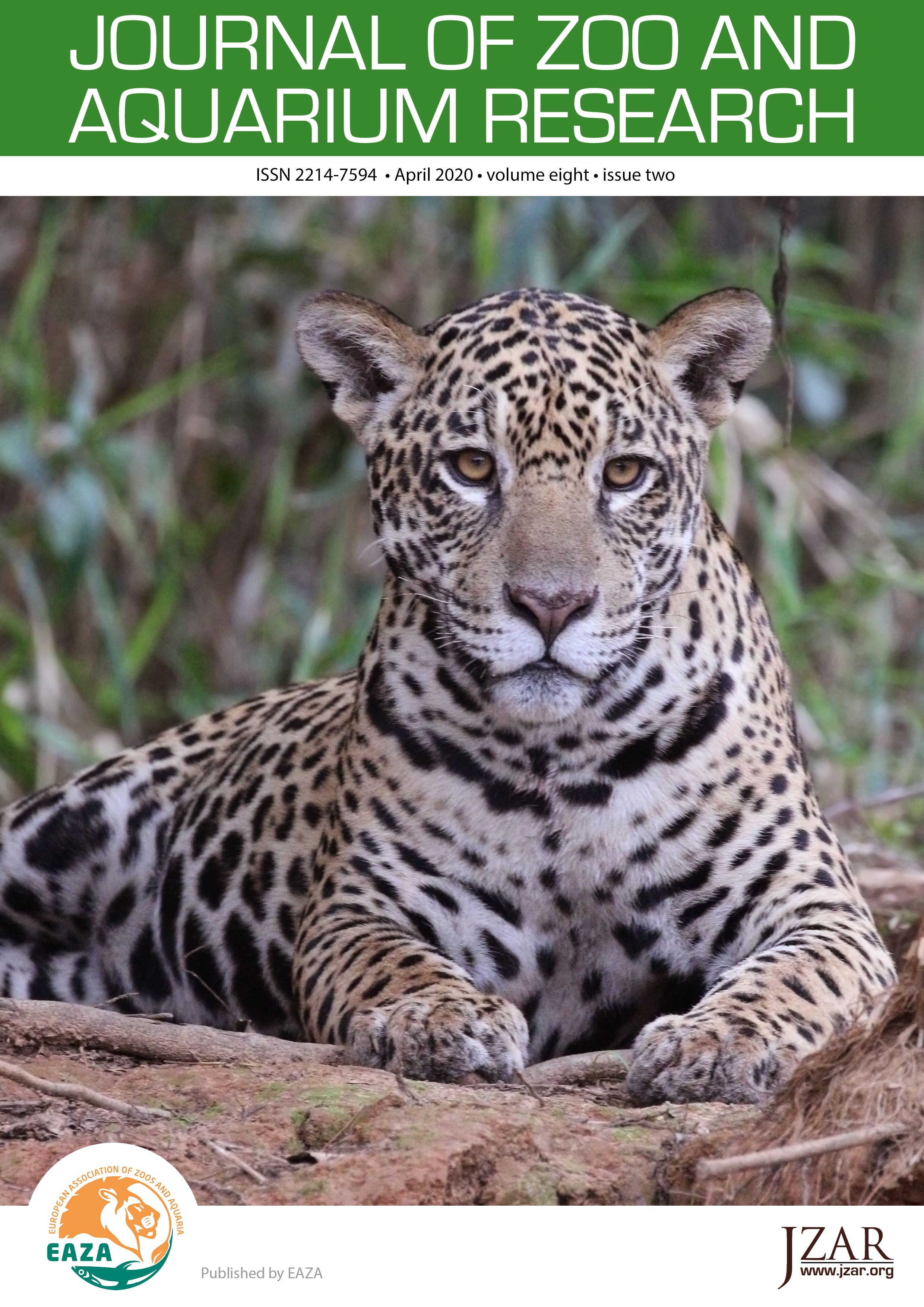 Downloads
How to Cite
Foerder, P., Swanson, S. B., & Collins, D. (2020). Space Use and Enrichment in a North American River Otter (Lontra canadensis) Exhibit. Journal of Zoo and Aquarium Research, 8(2), 94–98. https://doi.org/10.19227/jzar.v8i2.402
License
Authors who publish with this journal agree to the following terms:
Authors retain copyright and grant the journal right of first publication with the work simultaneously licensed under a Creative Commons Attribution License that allows others to share the work with an acknowledgement of the work's authorship and initial publication in this journal.
Authors are able to enter into separate, additional contractual arrangements for the non-exclusive distribution of the journal's published version of the work (e.g., post it to an institutional repository or publish it in a book), with an acknowledgement of its initial publication in this journal.
Authors are permitted and encouraged to post their work online (e.g., in institutional repositories or on their website) prior to and during the submission process, as it can lead to productive exchanges, as well as earlier and greater citation of published work (See The Effect of Open Access).