Impacts of an elderly lion Panthera leo exhibition at Kyoto City Zoo, Japan, on the perceptions, attitude, and behaviours of zoo enthusiasts
Keywords:
Aigo ethics, behavioral change, end-of-life, death education, personal connection, regular visitor
Abstract
The exhibition of elderly animals in Japanese zoos is likely to attract the attention of visitors due to the cultural concept of 'Aigo'. Although it is important for visitors to form a personal connection with animals in order to promote visitors' behavioural change, the impact of exhibiting elderly animals on zoo visitors is not clear. Therefore, this study surveyed zoo visitors about the exhibit of an elderly lion Panthera leo (25 years old, died of natural causes in January 2021) in the Kyoto City Zoo. In order to investigate the impacts of the end-of-life care and mourning of this animal on visitors, a questionnaire was distributed to visitors who participated in the memorial events held after the animal's death. The questionnaire contained both closed-response items (gender, age, frequency, duration of zoo visits, experience with animal keeping and experience with bereavement) and open-ended questions (impressions about the exhibition and changes in lifestyle). Chi-square tests were used to associate behavioural changes and multiple-choice items, and text mining was used to analyse free text. The responses to the questionnaire (n=140) indicated that the respondents found the exhibit to be an opportunity for self-contemplation and reflection on life. There was a significant relationship between frequently visiting the zoo and reporting a change in behaviour. A small number of self-reports of behavioural attempts to become actively involved with the zoo and animals were described. These findings indicate that the exhibition of elderly animals and the death of an animal provide opportunities for zoo visitors to form a personal connection with animals, which is effective in promoting behaviour change. In order to capitalise on the interest of these visitors, it is important for zoos to proactively communicate messages such as conservation activities.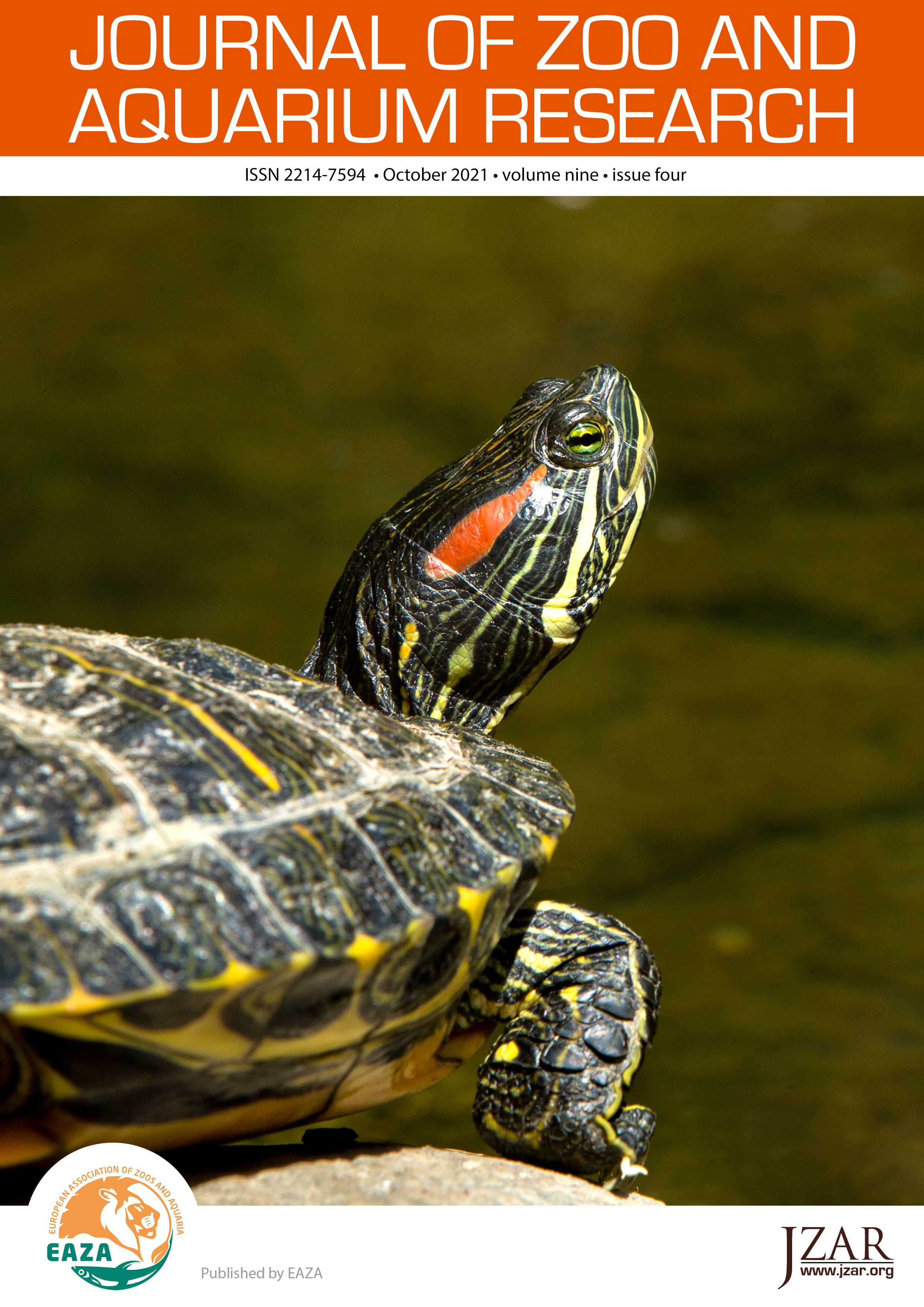 Downloads
How to Cite
Okabe, K., & Matsunaga, M. (2021). Impacts of an elderly lion Panthera leo exhibition at Kyoto City Zoo, Japan, on the perceptions, attitude, and behaviours of zoo enthusiasts. Journal of Zoo and Aquarium Research, 9(4), 266–272. https://doi.org/10.19227/jzar.v9i4.630
License