The use of Qualitative Behavioural Assessment to zoo welfare measurement and animal husbandry change.
Keywords:
Qualitative Behavioural Assessment; Animal Welfare; Positive challenge; Evidence-based Husbandry; Environmental Enrichment
Abstract
Zoological institutions have come a long way over the past twenty years in their measurement and evaluation of animal behaviour and welfare. Environments that enable the performance of biologically-relevant activity patterns, which increase behavioural diversity and ensure appetitive behaviours can be completed in full are commonplace in zoos globally. The use of species-specific environmental enrichment (EE) techniques, where the effect of EE is evaluated and refined, further enhance the opportunities for species to experience positive welfare in the zoo. What is still required is evaluation of the lasting effect of such husbandry and housing changes that provide meaningful long-term welfare improvements. Within British and Irish (BIAZA), and European (EAZA) collections welfare state is often inferred from behavioural measurements or determined based on a correlation of behavioural responses and physiological fluctuations. To provide evidence for best practice management, we need to provide benchmarks at a species-specific level that are comparable across husbandry and management regimes, as well as across environmental conditions that captive populations occur in. This paper provides an outline of the relevance of Qualitative Behavioural Assessment (QBA) to those working in the field of zoo animal husbandry to show how valid and objective measurements of welfare state can be taken on individuals living in zoos in a range of different situations. We evaluate the current literature to show the depth and breadth of QBA application to provide suggestions for future areas of research investigation and a practical usage in the zoo. We show how QBA can be used to target the application of EE to meet specific husbandry needs or promote key welfare-positive behaviour. We evaluate the relevance of positive challenge "eustress" to captive species and identify areas for the wider application of QBA across captive population and institutions to further support the key aims of the modern zoo. We provide coverage of literature on QBA in the domestic animal field and attempt to apply these methods to a zoo-based example. We conclude by evaluating why zoos need to consider the results of qualitative, multi-institution studies and how the results of this can be utilised to improve husbandry and animal experiences in the zoo.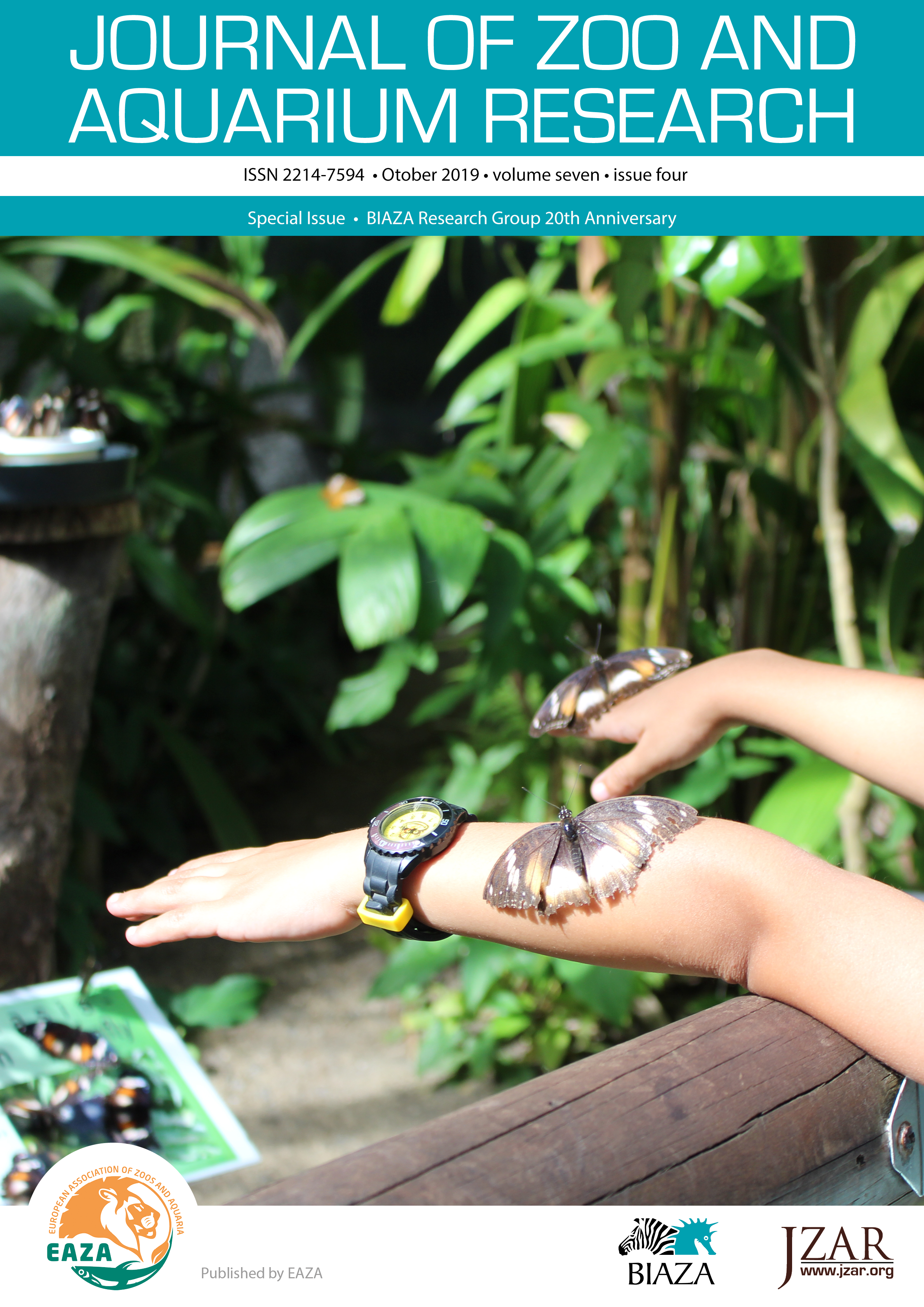 Downloads
How to Cite
Rose, P., & Riley, L. (2019). The use of Qualitative Behavioural Assessment to zoo welfare measurement and animal husbandry change. Journal of Zoo and Aquarium Research, 7(4), 150–161. https://doi.org/10.19227/jzar.v7i4.423
License
Authors who publish with this journal agree to the following terms:
Authors retain copyright and grant the journal right of first publication with the work simultaneously licensed under a Creative Commons Attribution License that allows others to share the work with an acknowledgement of the work's authorship and initial publication in this journal.
Authors are able to enter into separate, additional contractual arrangements for the non-exclusive distribution of the journal's published version of the work (e.g., post it to an institutional repository or publish it in a book), with an acknowledgement of its initial publication in this journal.
Authors are permitted and encouraged to post their work online (e.g., in institutional repositories or on their website) prior to and during the submission process, as it can lead to productive exchanges, as well as earlier and greater citation of published work (See The Effect of Open Access).