Survey of Captive Hylobatid Diets and Their Association with Gastrointestinal Distress
Keywords:
chronic diarrhoea, diet, gibbons, stool score
Abstract
Despite their ubiquity in captivity, specific dietary recommendations are few for captive hylobatid apes. In the wild, these small apes consume a diverse array of food materials, with a predominance of fibrous plant matter. In captivity, however, animals are more likely to be fed commercial diets and locally available fruits and vegetables. For optimal health, animal diets must contain appropriate amounts of macromolecules, nutrients and minerals, and dietary imbalances can contribute to poor health and animal welfare. Captive hylobatids, in particular, commonly suffer from gastrointestinal distress (GID), typically manifest as chronic diarrhoea (CD), but little documentation exists of the extent of, causes of, or treatments for this often-chronic condition in small apes. In this study, an anonymous survey of 10 questions pertaining to small ape diet and faecal characteristics was made available globally to institutions housing small apes. A total of 53 different institutions completed the survey, providing dietary and faecal characteristics data for 248 individuals representing eight of the 17 recognised small ape species. Little standardisation of hylobatid diet exists, with some institutions feeding nearly all fruit and/or vegetable matter and others feeding only processed meals. A total of 26 of the 53 responding institutions reported animals with CD, in 51 out of the 248 subjects represented. CD was evenly distributed across the subjects in the sample, having no specific association with subject species, gender or age. Captive populations that included subjects with CD (CD+) and without CD (CD-) received diets containing similar amounts of citrus fruits, plant-based matter and protein. However, CD+ populations received non-citrus fruits at higher average levels than CD- populations, and also received food-based enrichments, on average, more often than CD- groups. These data confirm that (i) captive hylobatid diets vary widely among institutions, (ii) vegetables and fruits comprise the bulk of most captive diets, with substantial protein but little citrus included, (iii) CD is a common aspect of captive small ape health, (iv) the occurrence of CD is not specifically associated with any identified captive small ape subpopulation, and (v) higher amounts of dietary fruits and food-based enrichments are associated with the occurrence of CD in captive small apes. More work is needed to determine if specific food types within these general categories are typical causative agents of CD in captive small apes.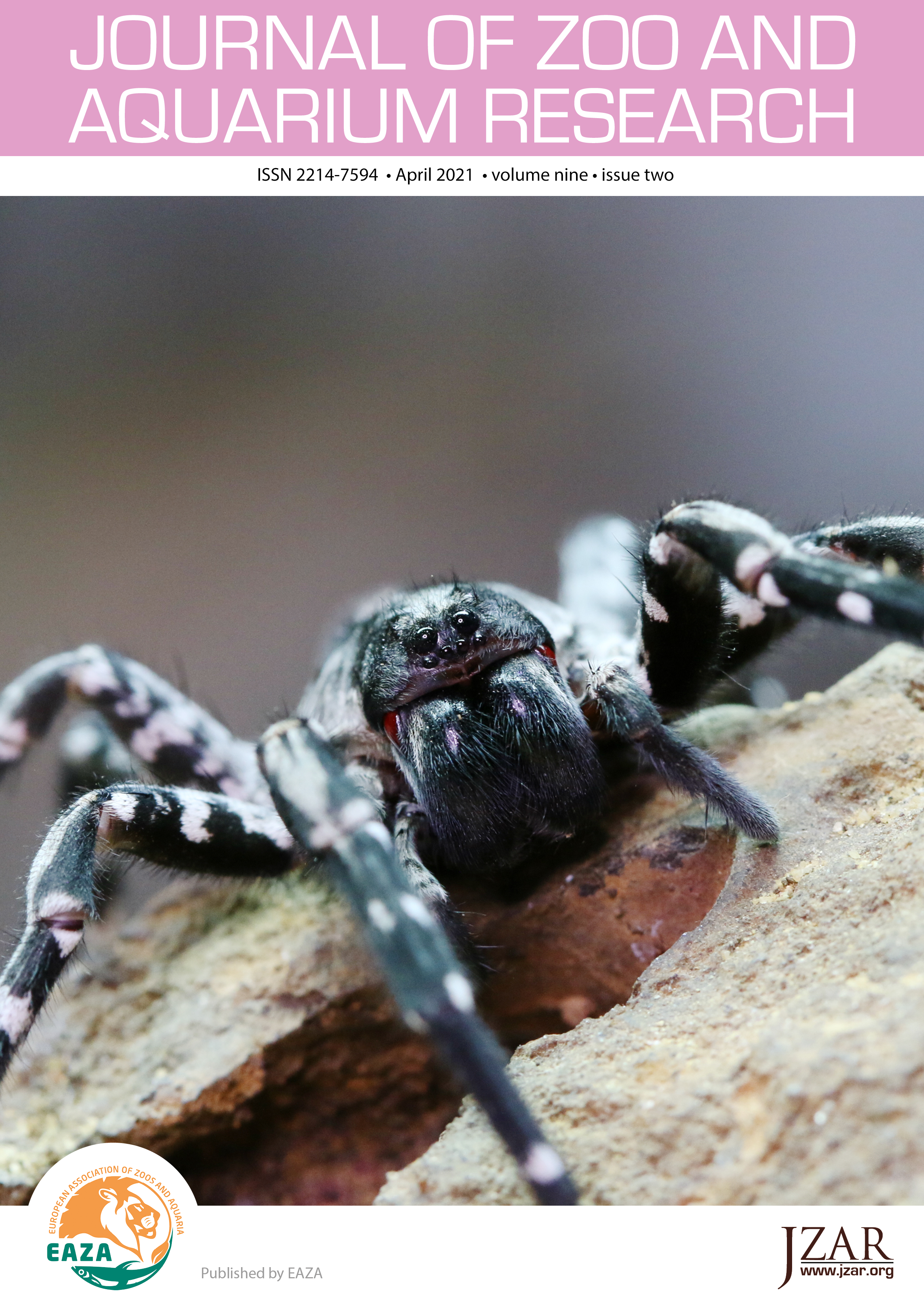 Downloads
Additional Files
How to Cite
Munir, G., & Nealen, P. (2021). Survey of Captive Hylobatid Diets and Their Association with Gastrointestinal Distress. Journal of Zoo and Aquarium Research, 9(2), 73–80. https://doi.org/10.19227/jzar.v9i2.511
License
Authors who publish with this journal agree to the following terms:
Authors retain copyright and grant the journal right of first publication with the work simultaneously licensed under a Creative Commons Attribution License that allows others to share the work with an acknowledgement of the work's authorship and initial publication in this journal.
Authors are able to enter into separate, additional contractual arrangements for the non-exclusive distribution of the journal's published version of the work (e.g., post it to an institutional repository or publish it in a book), with an acknowledgement of its initial publication in this journal.
Authors are permitted and encouraged to post their work online (e.g., in institutional repositories or on their website) prior to and during the submission process, as it can lead to productive exchanges, as well as earlier and greater citation of published work (See The Effect of Open Access).