Effect of deslorelin implants on the testicular function in male ring-tailed lemurs (Lemur catta)
Deslorelin effect in Lemur catta
Annais Carbajal

Department of Animal Health and Anatomy, Veterinary Faculty, Universitat Autònoma de Barcelona, Edifici V, Campus UAB, 08193 Bellaterra, Spain

Oriol Tallo-Parra

Department of Animal Health and Anatomy, Veterinary Faculty, Universitat Autònoma de Barcelona, Edifici V, Campus UAB, 08193 Bellaterra, Spain

Maria Sabes-Alsina

Department of Animal Health and Anatomy, Veterinary Faculty, Universitat Autònoma de Barcelona, Edifici V, Campus UAB, 08193 Bellaterra, Spain

Laura Monclus

Department of Animal Health and Anatomy, Veterinary Faculty, Universitat Autònoma de Barcelona, Edifici V, Campus UAB, 08193 Bellaterra, Spain

Maria Dolores Carbonell

Bioparc Valencia, Avda. Pío Baroja 3, 46015 Valencia, Spain

Cati Gerique

Bioparc Valencia, Avda. Pío Baroja 3, 46015 Valencia, Spain

Miguel Casares

Bioparc Valencia, Avda. Pío Baroja 3, 46015 Valencia, Spain; Zoo Frankfurt, Bernhard-Grzimek-Allee 1, D-60316 Frankfurt, Germany

Manel Lopez-Bejar

Department of Animal Health and Anatomy, Veterinary Faculty, Universitat Autònoma de Barcelona, Edifici V, Campus UAB, 08193 Bellaterra, Spain
Keywords:
GnRH-agonist, fecal testosterone, spermatogenesis, aggression, male contraception
Abstract
Ring-tailed lemurs (Lemur catta) are popular exhibit animals in zoos. During the breeding season, males may fight strongly and this may end up with serious wounds and/or escapes. The hormonal contraceptive deslorelin, a GnRH-agonist, has been used in different species to suppress reproduction. This contraception strategy can reduce the production of sexual hormones and therefore, it could be used to control aggressive behavior. Here, we analyzed the effect of a 4.7 mg deslorelin implant on the testicular function in five male ring-tailed lemurs. The aim of the study was to assess if this contraception strategy could be used to reduce testosterone levels and thus aggressive interactions within individuals. Neither testosterone concentrations detected in feces nor spermatogenesis evaluated by testes histology was suppressed by the deslorelin treatment. The present study has shown that a GnRH implant containing 4.7 mg deslorelin has no contraceptive effects in ring-tailed lemurs. The use of different dosages of deslorelin implants as well as the effect of other hormonal contraceptives should be evaluated in this species.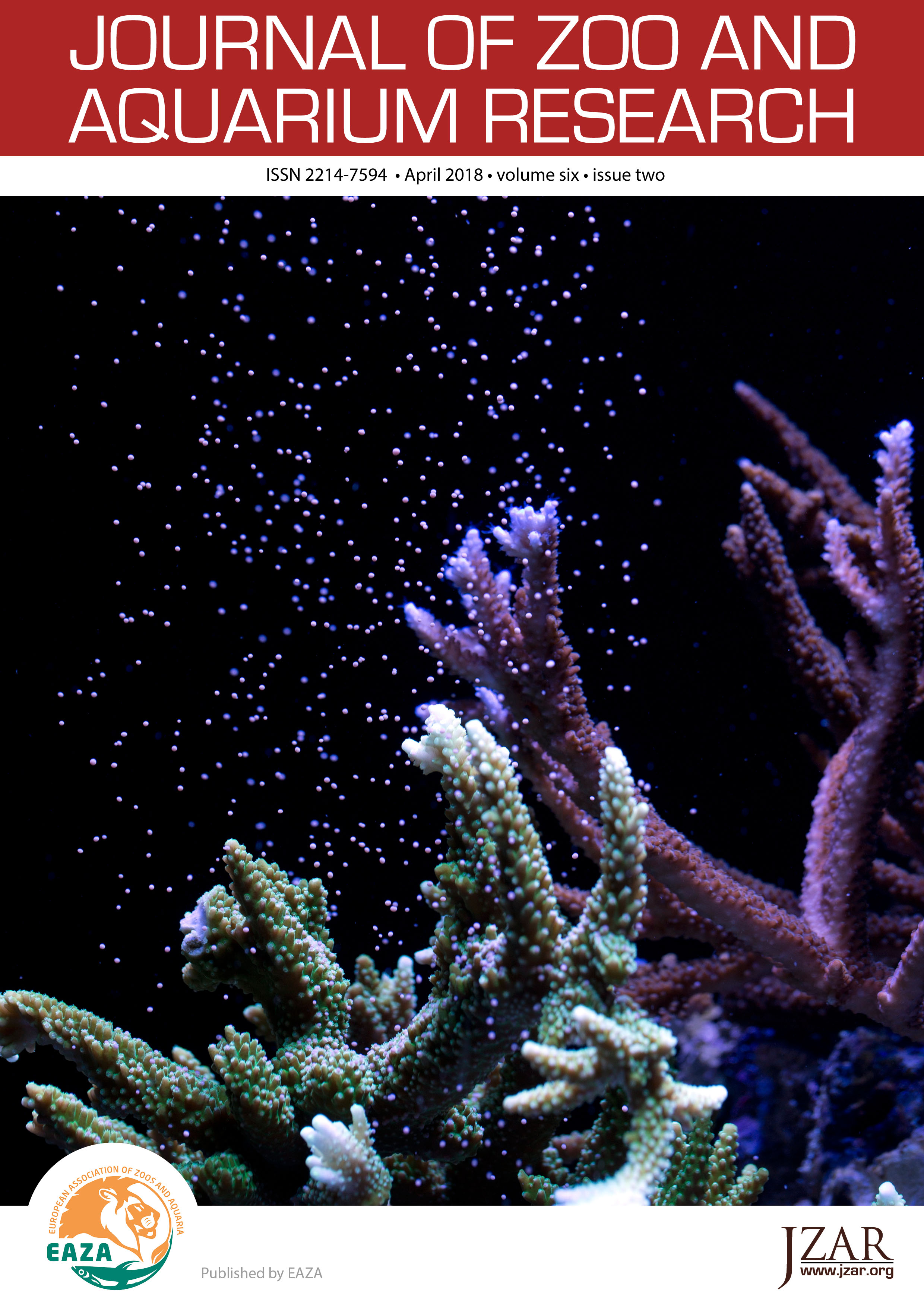 Authors who publish with this journal agree to the following terms:
Authors retain copyright and grant the journal right of first publication with the work simultaneously licensed under a Creative Commons Attribution License that allows others to share the work with an acknowledgement of the work's authorship and initial publication in this journal.
Authors are able to enter into separate, additional contractual arrangements for the non-exclusive distribution of the journal's published version of the work (e.g., post it to an institutional repository or publish it in a book), with an acknowledgement of its initial publication in this journal.
Authors are permitted and encouraged to post their work online (e.g., in institutional repositories or on their website) prior to and during the submission process, as it can lead to productive exchanges, as well as earlier and greater citation of published work (See The Effect of Open Access).