Spontaneous recovery from reproductive failure in a hand-reared male western lowland gorilla (Gorilla gorilla gorilla)
Abstract
An adult hand-reared male gorilla raised in bachelor groups was considered as not reproductive on the basis of his behavioural background, clinical history and the results of a physical examination (electroejaculation and ultrasound examination of the testes). He was kept for 3.5 years with a well-socialised adult female and, despite regular sexual activity, no reproductive success was achieved. However, this gorilla has since returned to fertility and within a few months of a second female joining the group, both females became pregnant, indicating that the male could no longer be deemed "infertile". Thus, male fertility evaluations must be interpreted carefully in relation to social structures in gorillas, and the establishment of a proper social group structure should be taken into consideration when establishing new gorilla breeding groups. The introduction of adequately socialised females to hand-reared males that have matured in bachelor groups may improve not only the social behaviour but also the reproductive capacity of such males.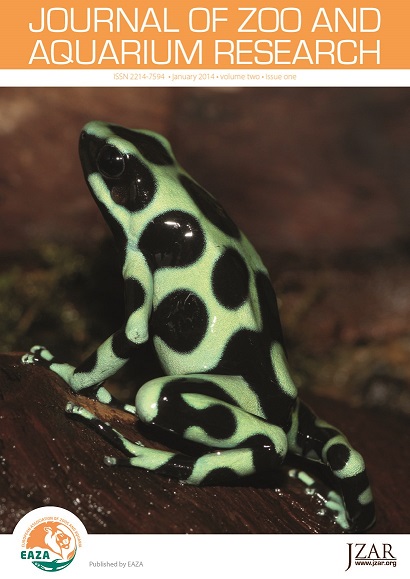 Downloads
How to Cite
Casares, M., Garrido, N., Vidal, J., Martínez-Jabaloyas, J.-M., Gerique, A.-C., & Carbonell, M.-D. (2014). Spontaneous recovery from reproductive failure in a hand-reared male western lowland gorilla (Gorilla gorilla gorilla). Journal of Zoo and Aquarium Research, 2(1), 22–24. https://doi.org/10.19227/jzar.v2i1.61
Section
Evidence Based Practice
License
Authors who publish with this journal agree to the following terms:
Authors retain copyright and grant the journal right of first publication with the work simultaneously licensed under a Creative Commons Attribution License that allows others to share the work with an acknowledgement of the work's authorship and initial publication in this journal.
Authors are able to enter into separate, additional contractual arrangements for the non-exclusive distribution of the journal's published version of the work (e.g., post it to an institutional repository or publish it in a book), with an acknowledgement of its initial publication in this journal.
Authors are permitted and encouraged to post their work online (e.g., in institutional repositories or on their website) prior to and during the submission process, as it can lead to productive exchanges, as well as earlier and greater citation of published work (See The Effect of Open Access).