Coupling salinity reduction to aquatic animal well-being and ecosystem representativeness at the Biodôme de Montréal
Abstract
This paper presents a case study of a locally adapted sustainable strategy of salinity reduction applied to the Saint Lawrence maritime ecosystem at the Biodôme de Montréal. In conformity with the standards of the CAZA (Canadian Aquarium and Zoos Association), this procedure was implemented to reconcile animal well-being, ecosystem representativeness and control of costs under the operational environment of a cold seawater recirculation system featuring the Golfe du Saint Laurent Ecosystem (GSLE) and its associated live collection. A simple methodology to carry out safe salinity reduction procedures of artificial seawater environments (from 28 to 24 Practical Salinity Units) is proposed and detailed. Adapted salinity challenge tests at 14, 21 and 24 were conducted beforehand and simple adapted indicators were used on a selection of key species (thorny skate: Raja radiate; little skate: R. erinacea; barndoor skate: R. laevis; Atlantic cod: Gadus morhua; green urchins: Strongylocentrolus droebachien and American lobster: Homarus americanus) to evaluate the well-being and mortality risks associated with both a lower operational salinity (long-term exposure) and an unavoidable salinity drop (short-term exposure) observed during routine large-scale water renewal operations. Economic gains achieved through reduction in the use of costly synthetic salt formulation were calculated. The savings achieved during three years of operation at 24 PSU have been applied to the improvement of the water quality control management capacities of the GLSE exhibit such as a sulphur-based denitrification unit, additional ozonation and protein skimming capacities.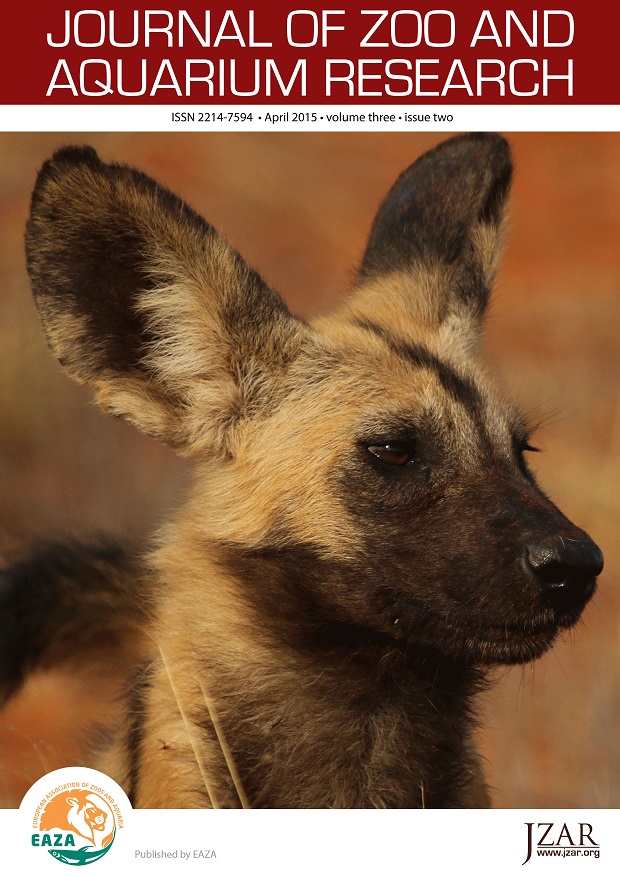 Downloads
How to Cite
Le François, N. R., Picq, S., Savoie, A., Boussin, J., Plante, S., Wong, E., Misserey, L., Rojas, S., & Genet, J. (2015). Coupling salinity reduction to aquatic animal well-being and ecosystem representativeness at the Biodôme de Montréal. Journal of Zoo and Aquarium Research, 3(2), 70–76. https://doi.org/10.19227/jzar.v3i2.96
Section
Evidence Based Practice
License
Authors who publish with this journal agree to the following terms:
Authors retain copyright and grant the journal right of first publication with the work simultaneously licensed under a Creative Commons Attribution License that allows others to share the work with an acknowledgement of the work's authorship and initial publication in this journal.
Authors are able to enter into separate, additional contractual arrangements for the non-exclusive distribution of the journal's published version of the work (e.g., post it to an institutional repository or publish it in a book), with an acknowledgement of its initial publication in this journal.
Authors are permitted and encouraged to post their work online (e.g., in institutional repositories or on their website) prior to and during the submission process, as it can lead to productive exchanges, as well as earlier and greater citation of published work (See The Effect of Open Access).