Implementation of sulphur denitrification in a large-scale fully recirculated cold-SW aquarium: A sustainability practice
Abstract
Autotrophic sulphur-based denitrification (ASD) was evaluated to control nitrate accumulation in the marine aquatic exhibit of the Biodôme de Montréal (Montréal, QC, Canada). Different substrates (two sulphur and two calcareous sources were tested), flow-rates and configurations (homogenous and low to high stratification levels) were evaluated that successively improved nitrate removal rates (g N-NO3- · day-1) and/or start-up time. Despite pronounced suboptimal conditions for anaerobic denitrifying bacteria, Thiobacillus denitrificans i.e. saline (24 PSU), cold (5-10oC) and aerated waters, our R&D efforts lead to the development of an efficient, simple, custom-made ASD unit adapted to a priori unfavourable conditions. The Rocky Shore exhibit (25 m3) housing the most sensitive marine aquatic species of our live collections (mostly invertebrates) previously operated at ? 50 mg N-NO3- · L-1 is now at ~ 20 mg N-NO3- · L-1. Considering the significant economic and environmental gains achieved (e.g. sustainability) following the implementation of this technology at a small-scale on the Rocky Shore exhibit (100 kg of sulphur), a 10-fold upscaling (1000 kg of sulphur) ASD unit to be connected to the La Baie exhibit (2500 m3) is planned.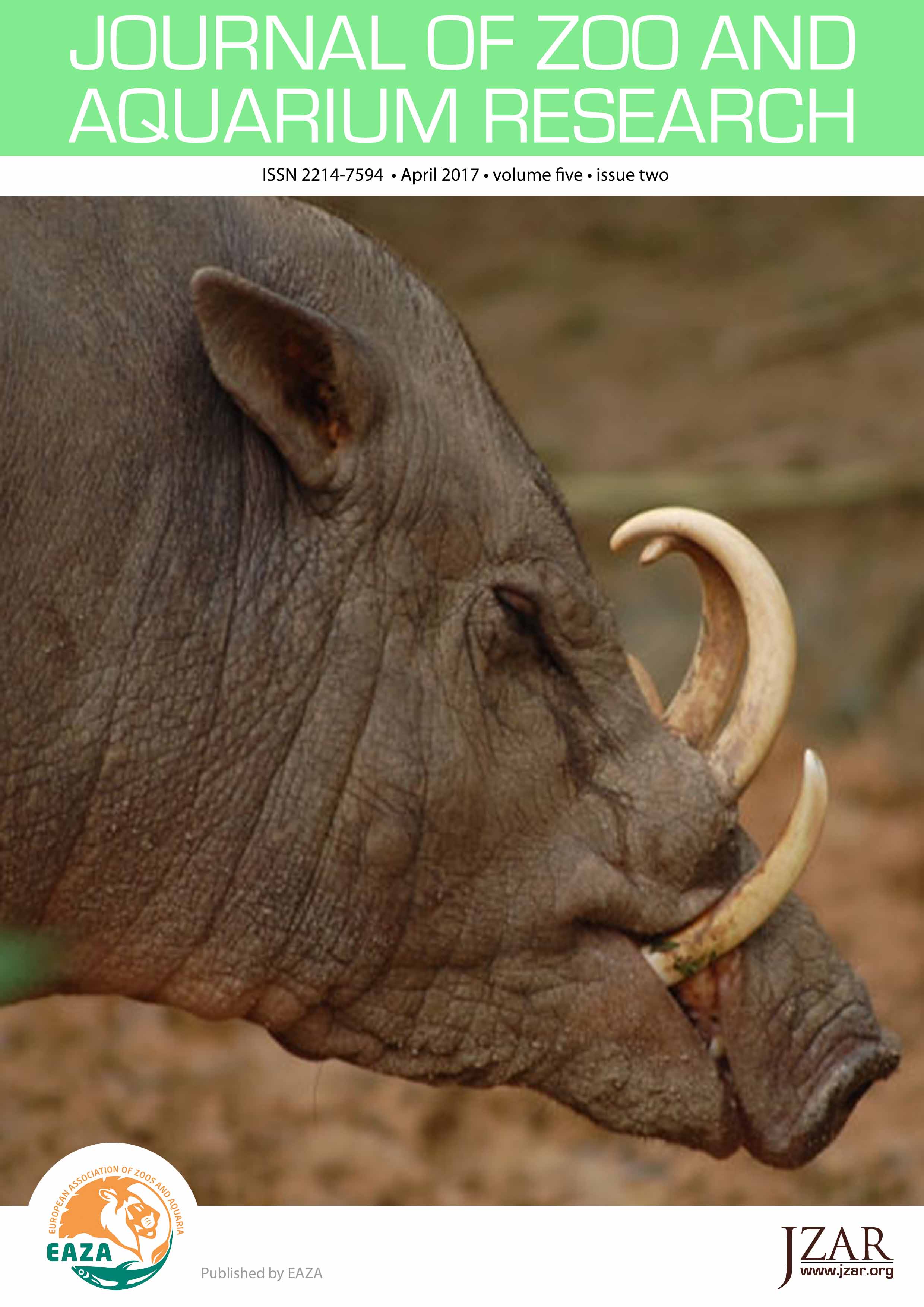 Downloads
How to Cite
Tremblay-Gratton, A., Boussin, J.-C., Bennachi, A., Tamigneaux, E., Vandenberg, G., & Le François, N. R. (2017). Implementation of sulphur denitrification in a large-scale fully recirculated cold-SW aquarium: A sustainability practice. Journal of Zoo and Aquarium Research, 5(2), 104–108. https://doi.org/10.19227/jzar.v5i2.288
Section
Evidence Based Practice
License
Authors who publish with this journal agree to the following terms:
Authors retain copyright and grant the journal right of first publication with the work simultaneously licensed under a Creative Commons Attribution License that allows others to share the work with an acknowledgement of the work's authorship and initial publication in this journal.
Authors are able to enter into separate, additional contractual arrangements for the non-exclusive distribution of the journal's published version of the work (e.g., post it to an institutional repository or publish it in a book), with an acknowledgement of its initial publication in this journal.
Authors are permitted and encouraged to post their work online (e.g., in institutional repositories or on their website) prior to and during the submission process, as it can lead to productive exchanges, as well as earlier and greater citation of published work (See The Effect of Open Access).