Metastasising osteosarcoma in an eastern white pelican (Pelecanus onocrolatus)
Abstract
A 15-month old captive born Eastern white pelican (Pelecanus onocrolatus) with an abnormal gait had a firm swelling of the right stifle that was unresponsive to conservative treatment with NSAIDs. Radiography of the leg showed disruption of the osseous detail of the distal femur and proximal tibiotarsus with a marked periosteal reaction, marked soft tissue swelling surrounding the right stifle and mottled increased radiodensity of these soft tissues. Despite medical treatment, the immobility of the leg progressed, inappetence set in and the bird was euthanased.  On post-mortem examination there was a large ossified mass at the right stifle and additional well circumscribed masses were evident in the leg and wing musculature, pectoral muscles and myocardium. Further masses were present in the liver and in one kidney. Histological examination identified the stifle mass as an osteosarcoma. The various masses found in the musculature, liver and kidney were constructed of similar cells and considered metastases. The predilection of the metastases for muscular tissue, including the myocardium, is unusual and has not previously been described in birds.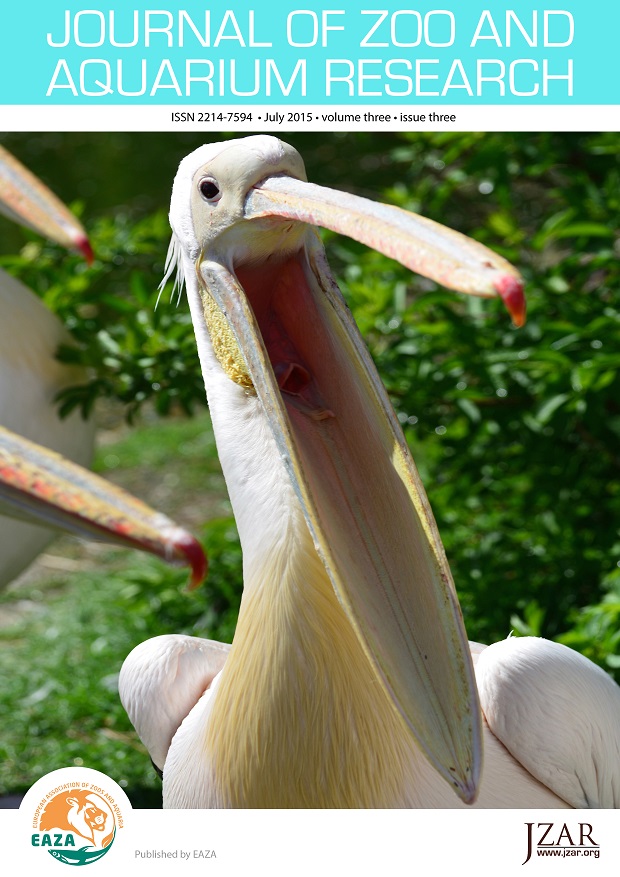 Downloads
How to Cite
Molenaar, F. M., Strike, T., Dodds, J., Berry, K., Whitbread, T. J., & Graham, J. (2015). Metastasising osteosarcoma in an eastern white pelican (Pelecanus onocrolatus). Journal of Zoo and Aquarium Research, 3(3), 77–79. https://doi.org/10.19227/jzar.v3i3.77
License
Authors who publish with this journal agree to the following terms:
Authors retain copyright and grant the journal right of first publication with the work simultaneously licensed under a Creative Commons Attribution License that allows others to share the work with an acknowledgement of the work's authorship and initial publication in this journal.
Authors are able to enter into separate, additional contractual arrangements for the non-exclusive distribution of the journal's published version of the work (e.g., post it to an institutional repository or publish it in a book), with an acknowledgement of its initial publication in this journal.
Authors are permitted and encouraged to post their work online (e.g., in institutional repositories or on their website) prior to and during the submission process, as it can lead to productive exchanges, as well as earlier and greater citation of published work (See The Effect of Open Access).