First observations on the courtship, mating, and nest visit behaviour of the Philippine crocodile (<i>Crocodiles mindorensis</i>) at the Cologne Zoo
Abstract
The aim of this study was to gain a better understanding of the social and in particular reproductive behaviour of the Critically Endangered Philippine crocodile. Crocodylus mindorensis has been a focus for international conservation breeding measures for about two decades. Since little scientific data have been gathered on the biology and ecology of the species so far, its breeding remains a challenge. In order to identify behavioural patterns that trigger courtship behaviour, and to determine when sociopositive interactions increase and the animals are ready for reproduction, a pair of two adult C. mindorensis at Cologne Zoo was systematically observed between August 2011 and July 2012 for a total of 583 hours. Observations took place using all occurrences recording and scan sampling, focusing on pre-, post- and actual mating behaviour. We present a detailed documentation of copulations with behaviours such as growling, roaring, and bubbling. Bubbling in both sexes was observed prior to copulations and decreased with the end of the mating season, supporting the assumption that it can be referred to as courtship behaviour. Behaviours that indicate the approach of the breeding season, such as approaches to the dividing slide, bubbling and nest building, could be distinguished. Our findings should help to improve breeding efforts under captive husbandry conditions and thus contribute to the conservation breeding of this highly endangered and difficult to keep crocodilian species.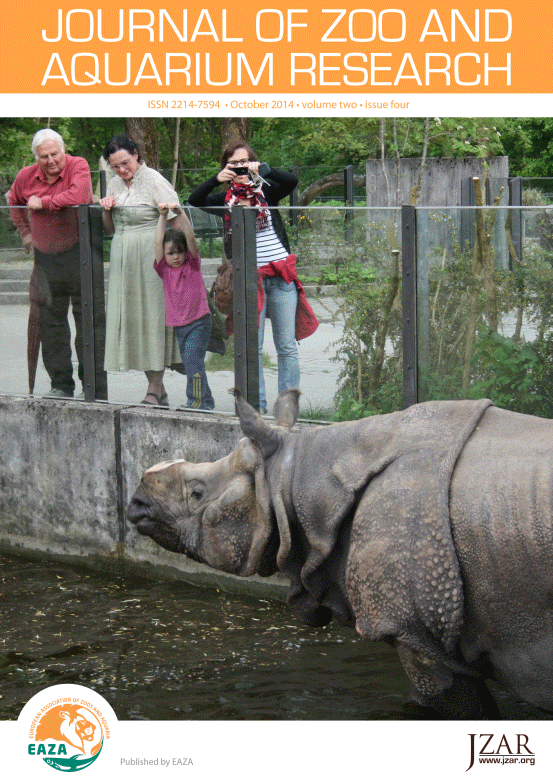 Downloads
How to Cite
Schneider, M., Klein, B., Krämer, D., Knezevic, K., Tiflova, L., Vogt, S., Rauhaus, A., van der Straeten, K., Karbe, D., Sommerlad, R., & Ziegler, T. (2014). First observations on the courtship, mating, and nest visit behaviour of the Philippine crocodile (<i>Crocodiles mindorensis</i>) at the Cologne Zoo. Journal of Zoo and Aquarium Research, 2(4), 123–129. https://doi.org/10.19227/jzar.v2i4.54
License
Authors who publish with this journal agree to the following terms:
Authors retain copyright and grant the journal right of first publication with the work simultaneously licensed under a Creative Commons Attribution License that allows others to share the work with an acknowledgement of the work's authorship and initial publication in this journal.
Authors are able to enter into separate, additional contractual arrangements for the non-exclusive distribution of the journal's published version of the work (e.g., post it to an institutional repository or publish it in a book), with an acknowledgement of its initial publication in this journal.
Authors are permitted and encouraged to post their work online (e.g., in institutional repositories or on their website) prior to and during the submission process, as it can lead to productive exchanges, as well as earlier and greater citation of published work (See The Effect of Open Access).