Activity budget of zoo-housed Dolichotis patagonum mates
Keywords:
behaviour, conservation, ex-situ, ex-situ management, monogamy, rodent
Abstract
Captive conditions differ widely from an animal's natural environment and risk making them prone to reduced behavioural flexibility and sometimes impaired reproduction. The Patagonian mara Dolichotis patagonum, a near threatened species, is a large rodent endemic to Argentina with a singular social organisation that combines monogamy with communal breeding. The aim of this study was to learn more about the activity budget and behavioural synchrony between mates of zoo-housed D. patagonum and thus contribute to research and conservation programmes at modern zoos worldwide. The study implicated 28 animals housed at Córdoba Zoo (Argentina) under natural photoperiod and temperature conditions. Behaviour was recorded once a week every hour from 0800–1800 for a 28-day period and the total offspring at the end of the spring-summer season were counted. The recorded activity budget was: resting (43%), feeding (25%) and alert (13%), the remaining categories accounting for less than 10%. Resting, feeding and alert were the only categories associated with hourly changes. There was 48% behavioural synchrony between mates (both sexes engaging in the same behaviour at the same time) and a total of 23 offspring were counted, corresponding to one litter each reproducing female. The similarity between the behavioural response of these zoo-housed individuals and available data on the behaviour of D. patagonum in the wild indicates that zoo-housed D. patagonum behavioural activities can be considered positive responses, providing useful information for the future development of reintroduction programmes.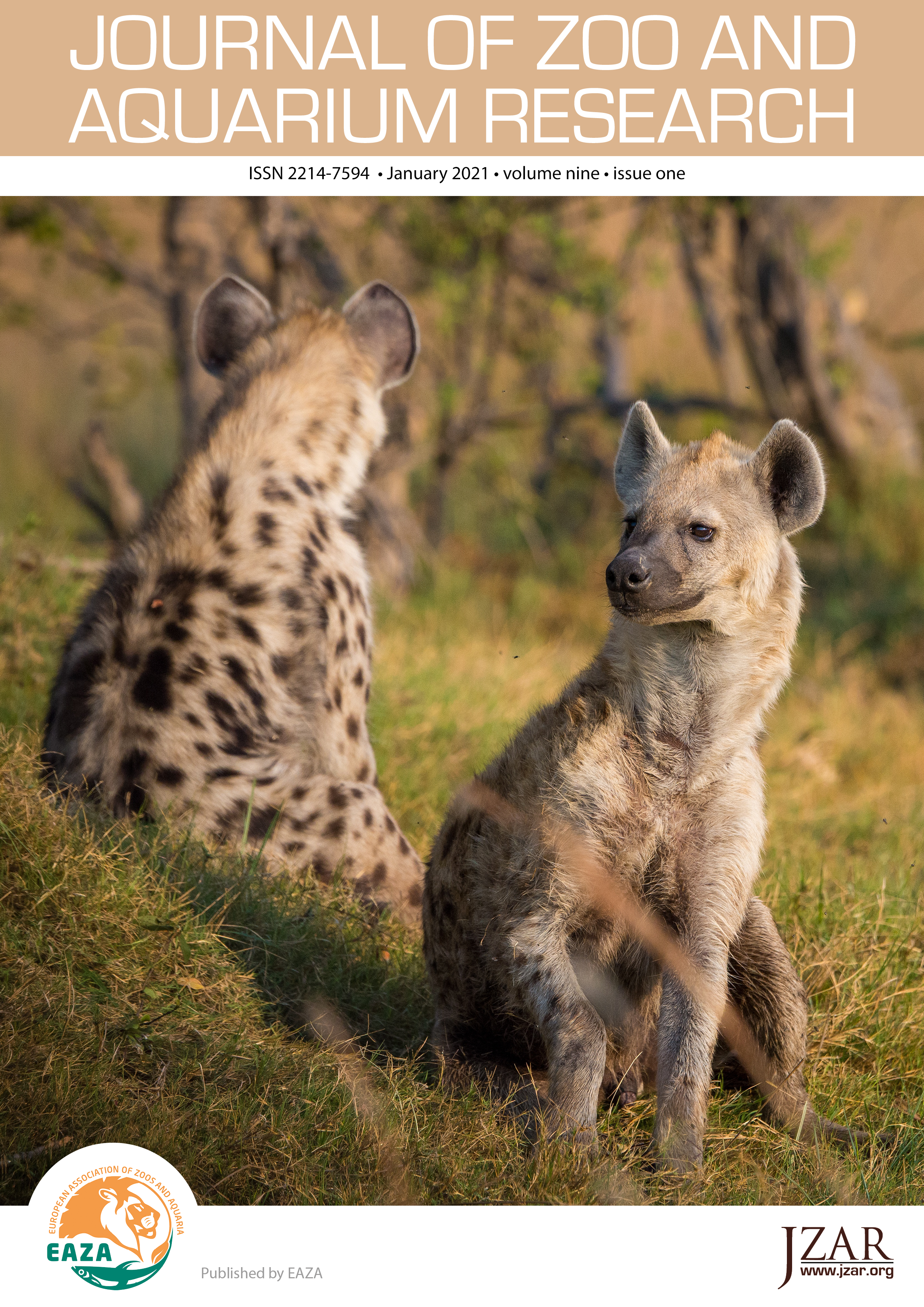 Downloads
How to Cite
Baechli, J. ., Bellis, L. M., García Capocasa, M. C., & Busso, J. M. (2021). Activity budget of zoo-housed Dolichotis patagonum mates. Journal of Zoo and Aquarium Research, 9(1), 14–19. https://doi.org/10.19227/jzar.v9i1.531
License
Authors who publish with this journal agree to the following terms:
Authors retain copyright and grant the journal right of first publication with the work simultaneously licensed under a Creative Commons Attribution License that allows others to share the work with an acknowledgement of the work's authorship and initial publication in this journal.
Authors are able to enter into separate, additional contractual arrangements for the non-exclusive distribution of the journal's published version of the work (e.g., post it to an institutional repository or publish it in a book), with an acknowledgement of its initial publication in this journal.
Authors are permitted and encouraged to post their work online (e.g., in institutional repositories or on their website) prior to and during the submission process, as it can lead to productive exchanges, as well as earlier and greater citation of published work (See The Effect of Open Access).