Intestinal Adenocarcinoma in a Montserrat Mountain Chicken (<i>Leptodactylus fallax</i>)
Abstract
The mountain chicken (Leptodactylus fallax) is a critically endangered, exceptionally large frog, found only on the Caribbean islands of Montserrat and Dominica. A wild-caught adult female Montserrat mountain chicken housed at the Zoological Society of London was euthanased after a history of lethargy and loss of body weight. On gross pathology, a 1 cm diameter mass was seen in the wall of the large intestine and a 2 mm diameter nodule was present on the cranial pole of the left kidney. On histopathological examination, both masses were identified as adenocarcinomas. Comparison of the histological appearance of the two masses, and characteristics on special staining, suggest that it was an intestinal adenocarcinoma with metastatic spread to the kidney. In mountain chickens, the only neoplasms previously reported are two cases of ovarian dysgerminoma. No aetiology was detected in the case described here. However, we recommend vigilance for future cases in this species, to ensure the success of the breeding programme and the survival of the species.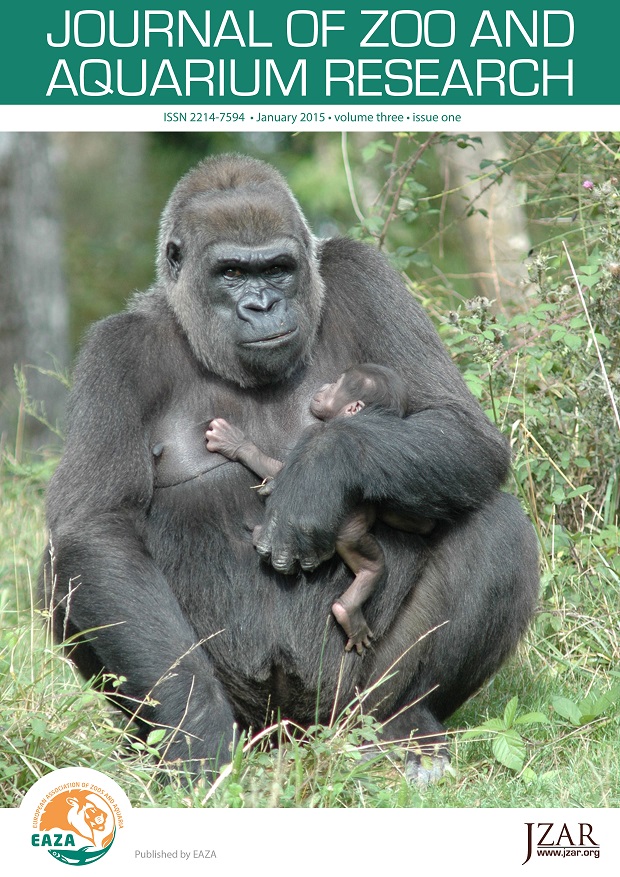 Downloads
How to Cite
Jaffe, J. E., Flach, E. J., Feltrer, Y., Rivers, S., Lopez, F. J., & Cunningham, A. A. (2015). Intestinal Adenocarcinoma in a Montserrat Mountain Chicken (<i>Leptodactylus fallax</i>). Journal of Zoo and Aquarium Research, 3(1), 21–24. https://doi.org/10.19227/jzar.v3i1.51
Section
Evidence Based Practice
License
Authors who publish with this journal agree to the following terms:
Authors retain copyright and grant the journal right of first publication with the work simultaneously licensed under a Creative Commons Attribution License that allows others to share the work with an acknowledgement of the work's authorship and initial publication in this journal.
Authors are able to enter into separate, additional contractual arrangements for the non-exclusive distribution of the journal's published version of the work (e.g., post it to an institutional repository or publish it in a book), with an acknowledgement of its initial publication in this journal.
Authors are permitted and encouraged to post their work online (e.g., in institutional repositories or on their website) prior to and during the submission process, as it can lead to productive exchanges, as well as earlier and greater citation of published work (See The Effect of Open Access).