Point-of-care cardiac troponin I in non-domestic species: A feasibility study
Abstract
Abstract
One of the main challenges faced by veterinary surgeons in the field of zoo and wild animal medicine is the lack of published reference data and validated tests for non-domestic species. In the field of cardiology the diagnostic techniques used for domestic animals are also applied to exotic species. However due to the wide range of species dealt with and their different sizes, few techniques have been validated. Recent advances in human and domestic animal medicine have shown cardiac troponin I (cTnI) to be the biomarker of choice for myocardial damage. The primary aim of this feasibility study was to determine whether the i-STAT®1 hand-held analyser can be used to identify elevations of serum and plasma cTnI in a variety of non-domestic species. The secondary aim was to explore whether elevations in cTnI were related to underlying cardiac pathology. During routine health checks at the Zoological Society of London, 171 blood samples were collected from 36 different species (27 mammal, seven bird and two reptile) and were analysed for cTnI using the i-STAT®1 hand-held analyser. Concentrations of cTnI below, equal to and well above a suggested cut-off of 0.08 µg/L were observed in mammalian species. The majority of animals with concentrations of cTnI above 0.08 µg/L were subsequently shown to have pathology with potential cardiac involvement. All avian and reptilian samples were below 0.00 µg/L even though overt cardiac pathology was noted in some of these animals. In conclusion, the assessment of cTnI using the i-STAT®1 hand-held analyser shows promise as a humoral marker of cardiac pathology in mammalian species but not for avian and reptilian species. Further work is required to define species-specific reference intervals for cTnI.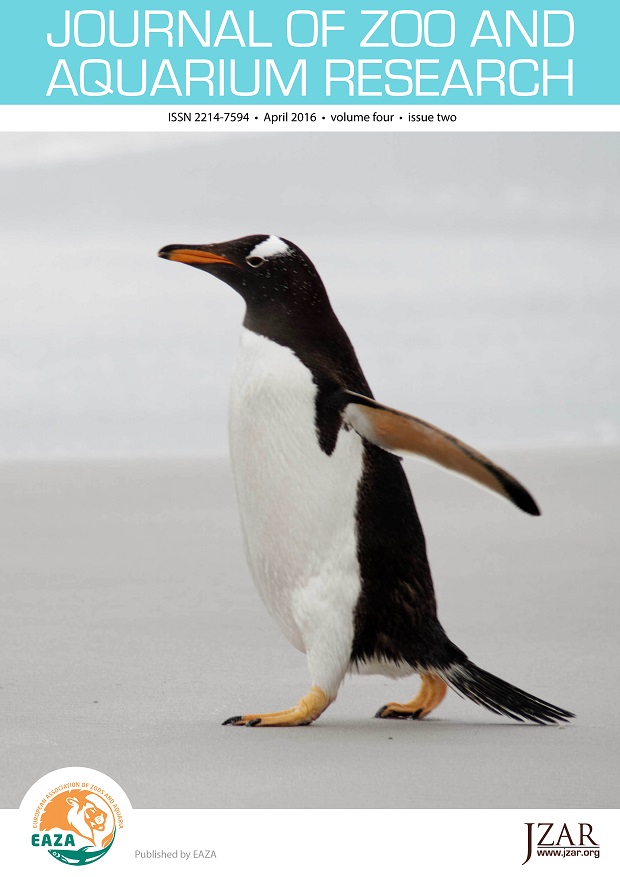 Downloads
How to Cite
Feltrer, Y., Strike, T., Routh, A., Gaze, D., & Shave, R. (2016). Point-of-care cardiac troponin I in non-domestic species: A feasibility study. Journal of Zoo and Aquarium Research, 4(2), 99–103. https://doi.org/10.19227/jzar.v4i2.172
License
Authors who publish with this journal agree to the following terms:
Authors retain copyright and grant the journal right of first publication with the work simultaneously licensed under a Creative Commons Attribution License that allows others to share the work with an acknowledgement of the work's authorship and initial publication in this journal.
Authors are able to enter into separate, additional contractual arrangements for the non-exclusive distribution of the journal's published version of the work (e.g., post it to an institutional repository or publish it in a book), with an acknowledgement of its initial publication in this journal.
Authors are permitted and encouraged to post their work online (e.g., in institutional repositories or on their website) prior to and during the submission process, as it can lead to productive exchanges, as well as earlier and greater citation of published work (See The Effect of Open Access).