Orangulas: effect of scheduled visual enrichment on behavioral and endocrine aspects of a captive orangutan (Pongo pygmaeus)
effect of scheduled visual enrichment on behavioral and endocrine aspects of a captive orangutan
Juan Olvido Perea Garcia

Interacting Minds Centre, Aarhus University

Alessandro Miani

Aarhus University, Denmark

Aage Kristian Olsen Alstrup

Aarhus University, Denmark

Jens Malmkvist

Aalborg University, Denmark

Cino Pertoldi

Aalborg University, Denmark

Trine Hammer Jensen

Aalborg Zoo, Denmark

Rikke Kruse Nielsen

Aalborg Zoo, Denmark

Dan Witzner Hansen

IT University of Copenhagen, Denmark

Lars A. Bach

Interacting Minds Centre, Aarhus University, Denmark
Keywords:
scheduled, visual enrichment, no rewards, orangutan, cortisol, ethogram
Abstract
Captivity may have adverse effects on captive great apes, who would spend much more of their time engaged in foraging and other activities in the wild. Enrichment interventions have the potential to alleviate the adverse effects of captivity by introducing novel stimuli. In orangutans, interactive digital enrichment has proven effective at engaging users out of their own free will, in exchange for nothing but the experience. In this article, we report the results of scheduled visual enrichment in the form of "orangulas" - one-hour long videos of footage consisting mainly on open spaces in different environments, with which our pongid participant could engage at free will. We measured the efficacy of our orangulas with both behavioral and endocrine measurements, concluding that scheduled visual enrichment has the potential to improve the welfare of captive orangutans by providing novel stimuli in the context of largely stable environments.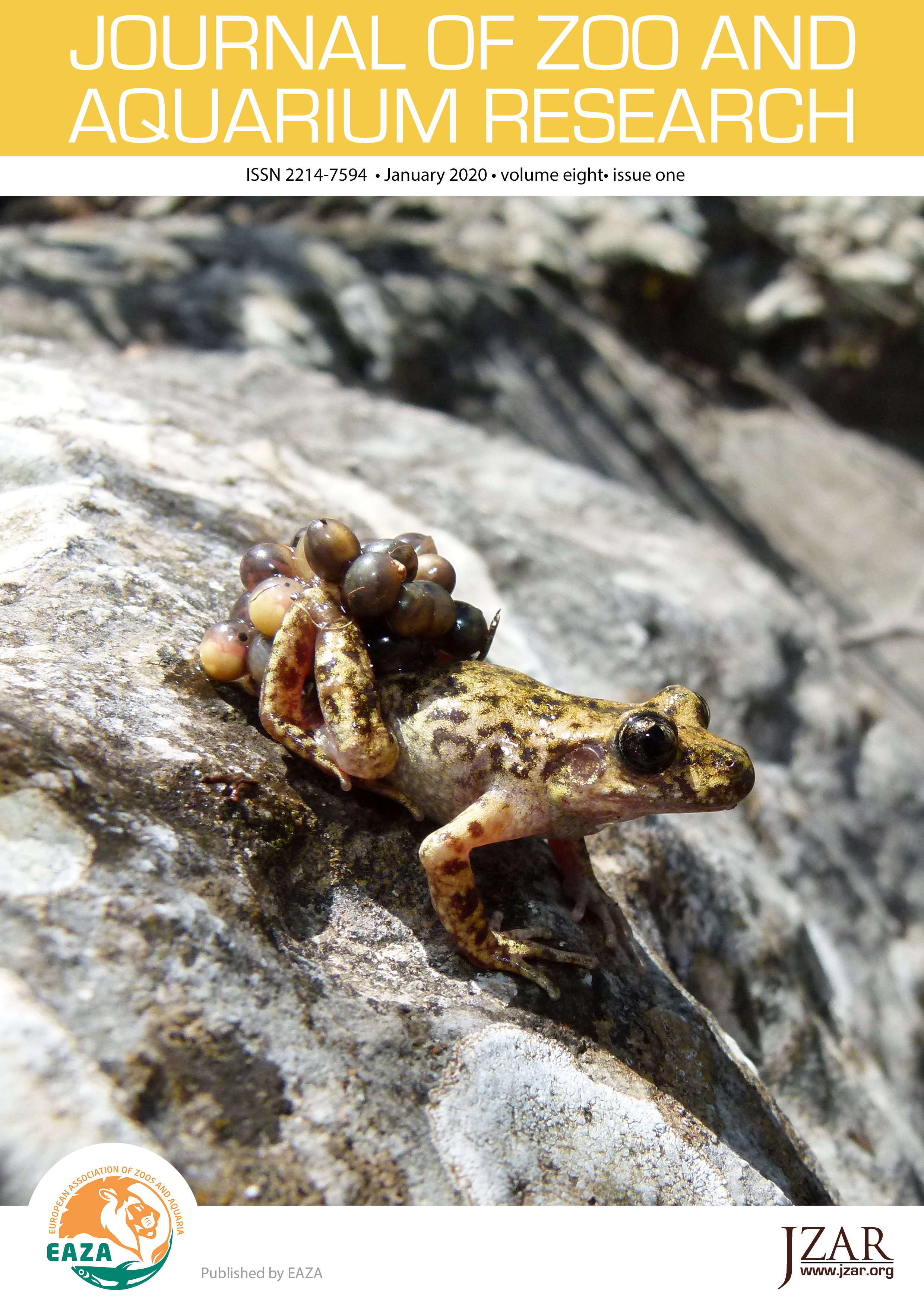 Section
Evidence Based Practice
Authors who publish with this journal agree to the following terms:
Authors retain copyright and grant the journal right of first publication with the work simultaneously licensed under a Creative Commons Attribution License that allows others to share the work with an acknowledgement of the work's authorship and initial publication in this journal.
Authors are able to enter into separate, additional contractual arrangements for the non-exclusive distribution of the journal's published version of the work (e.g., post it to an institutional repository or publish it in a book), with an acknowledgement of its initial publication in this journal.
Authors are permitted and encouraged to post their work online (e.g., in institutional repositories or on their website) prior to and during the submission process, as it can lead to productive exchanges, as well as earlier and greater citation of published work (See The Effect of Open Access).