Diet review and change for monkeys at Paignton Zoo Environmental Park
Abstract
Between 2003 and 2010 the diets of all medium-sized monkeys at Paignton Zoo Environmental Park were subjected to a continual process of review and improvement. This resulted in the removal of all fruit, bread, eggs and seeds from the diets and changes to commercial products used for some species. All species are now provided with similar diets consisting of a suitable commercial pelleted feed, a variety of fresh vegetables and small amounts of dog biscuits and cooked brown rice to provide opportunities for scatter feeding. Compared with the 2003 diets the 2010 diets have higher levels of protein (3–47% increase) and fibre (36–77% more NDF) and lower levels of readily digestible carbohydrate (6–14% decrease). Resultant health benefits have been improved dental health and weight loss in some previously overweight individuals. In addition, the 2010 diets are also considerably less expensive than the 2003 diets resulting in an estimated annual cost saving of £9717 based on current prices and animals held.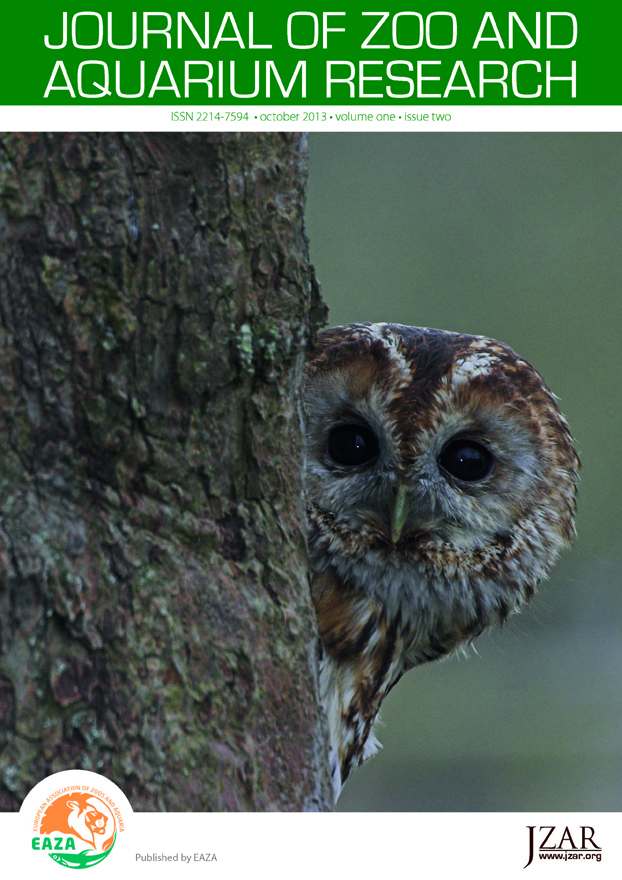 Downloads
How to Cite
Plowman, A. (2013). Diet review and change for monkeys at Paignton Zoo Environmental Park. Journal of Zoo and Aquarium Research, 1(2), 73–77. https://doi.org/10.19227/jzar.v1i2.35
License
Authors who publish with this journal agree to the following terms:
Authors retain copyright and grant the journal right of first publication with the work simultaneously licensed under a Creative Commons Attribution License that allows others to share the work with an acknowledgement of the work's authorship and initial publication in this journal.
Authors are able to enter into separate, additional contractual arrangements for the non-exclusive distribution of the journal's published version of the work (e.g., post it to an institutional repository or publish it in a book), with an acknowledgement of its initial publication in this journal.
Authors are permitted and encouraged to post their work online (e.g., in institutional repositories or on their website) prior to and during the submission process, as it can lead to productive exchanges, as well as earlier and greater citation of published work (See The Effect of Open Access).