Should zoo foods be coati chopped
Keywords:
diet, food presentation, feeding behaviour, procyonid, Nasua nasua
Abstract
The process of chopping feeds for zoo animals is common to many zoos, but few studies have evaluated the benefits of this presentation. While the perceived benefits of chopped diets include reduced food aggression, it is acknowledged that chopping feeds is time consuming for keepers and increases the risk of contamination. Given the potential disadvantages of chopped diets, there is a need to evaluate food presentation in a range of zoo-housed species. To investigate the effects on behaviour and sociality, meals were provided as either chopped or whole for a group of ring-tailed coatis (Nasua nasua) housed at Beale Wildlife Park. Effects of food presentation change were monitored, with particular attention to aggression, allo-grooming, food manipulation and activity levels. Surprisingly, analysis revealed a significant decrease in aggression, (p = 0.046), and a significant increase in food manipulation behaviours (p < 0.001) when unchopped foods were given. Levels of inactivity were not significantly changed by the new food presentation technique (p = 0.793). A positive correlation was also identified between bouts of aggression and allo-grooming (p < 0.001). These results suggest that chopped food may not provide all the behavioural benefits originally believed, and whole food diets may in fact provide coatis with greater opportunities to express natural food manipulation behaviours. Whole food may also decrease aggression levels normally observed during mealtimes. Chopped food studies are to be encouraged for more zoo taxa to evaluate feed presentation.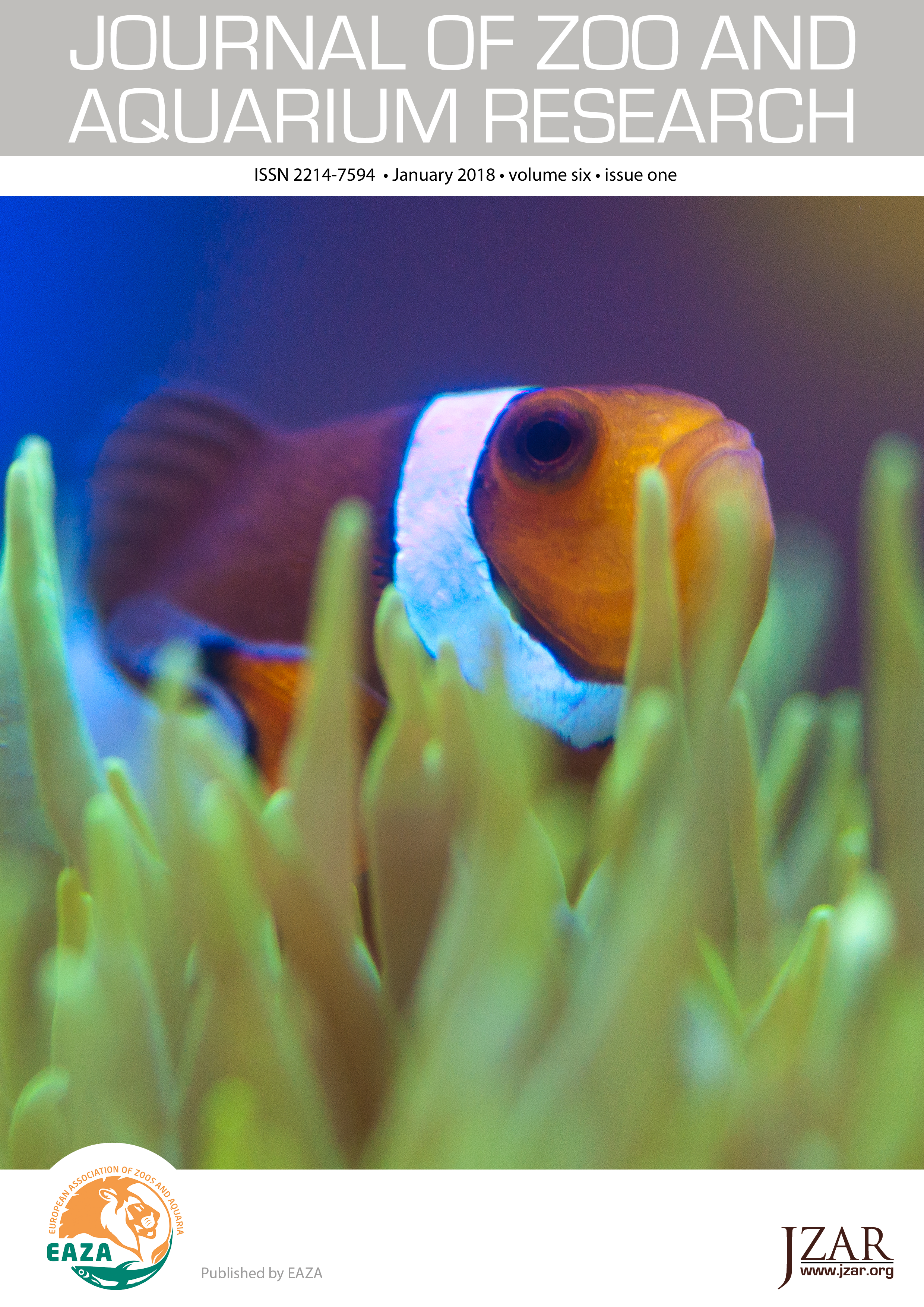 Downloads
How to Cite
Shora, J., Myhill, M., & Brereton, J. E. (2018). Should zoo foods be coati chopped. Journal of Zoo and Aquarium Research, 6(1), 22–25. https://doi.org/10.19227/jzar.v6i1.309
License
Authors who publish with this journal agree to the following terms:
Authors retain copyright and grant the journal right of first publication with the work simultaneously licensed under a Creative Commons Attribution License that allows others to share the work with an acknowledgement of the work's authorship and initial publication in this journal.
Authors are able to enter into separate, additional contractual arrangements for the non-exclusive distribution of the journal's published version of the work (e.g., post it to an institutional repository or publish it in a book), with an acknowledgement of its initial publication in this journal.
Authors are permitted and encouraged to post their work online (e.g., in institutional repositories or on their website) prior to and during the submission process, as it can lead to productive exchanges, as well as earlier and greater citation of published work (See The Effect of Open Access).