Spectacular manifestations of systemic diseases of the snake: a histopathological description of four cases
Abstract
This paper reports histopathological findings in the spectacles of four snakes diagnosed with systemic gout, inclusion body disease, disseminated lymphoma and myeloproliferative disease, respectively. Gout was characterised by urate ghost tophi in the stroma and outer epithelium of the spectacle. Inclusion body disease affected all layers of the spectacle with intracytoplasmic eosinophilic inclusions. Two cases of neoplasia, lymphoma and myeloproliferative disease, affected the ocular adnexa and the spectacular transition zone. These cases provide novel insight into how the spectacle may respond to four different systemic diseases with world-wide distribution.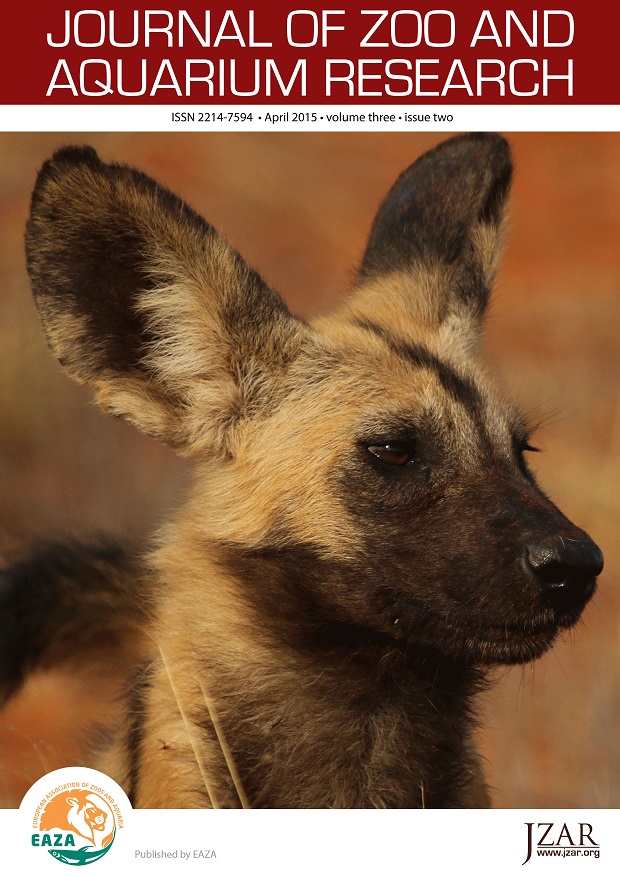 Downloads
How to Cite
Da Silva, M.-A., Bertelsen, M. F., Heegaard, S., & Garner, M. M. (2015). Spectacular manifestations of systemic diseases of the snake: a histopathological description of four cases. Journal of Zoo and Aquarium Research, 3(2), 43–46. https://doi.org/10.19227/jzar.v3i2.99
License
Authors who publish with this journal agree to the following terms:
Authors retain copyright and grant the journal right of first publication with the work simultaneously licensed under a Creative Commons Attribution License that allows others to share the work with an acknowledgement of the work's authorship and initial publication in this journal.
Authors are able to enter into separate, additional contractual arrangements for the non-exclusive distribution of the journal's published version of the work (e.g., post it to an institutional repository or publish it in a book), with an acknowledgement of its initial publication in this journal.
Authors are permitted and encouraged to post their work online (e.g., in institutional repositories or on their website) prior to and during the submission process, as it can lead to productive exchanges, as well as earlier and greater citation of published work (See The Effect of Open Access).