The effects of olfactory stimulation on the behaviour of captive meerkats (Suricata suricatta)
Abstract
Olfactory stimulation has been demonstrated to enhance welfare in a range of captive species through increasing behavioural diversity or decreasing frequencies of abnormal behaviours. Despite meerkats being commonly kept in many animal collections, research into methods of enrichment for captive meerkats is minimal and to date, the effects of olfactory stimulation on the behaviour of meerkats have not been explored. This study investigated the effects of olfactory stimulation on the behaviour of five meerkats (four females, one male; all captive-born) in response to five individual odour treatments: lavender, rosemary, catnip, prey odour and a no-odour control. Odours were presented individually on cloths in the animals' enclosure for a period of three days per stimulus and meerkat behaviour was recorded using a scan-sampling technique. There was no significant effect of individual olfactory stimulation on the meerkats' interaction with the cloth or general behaviour, although when odour versus no odour conditions were considered, higher levels of vigilance and eating behaviour were exhibited in the presence of olfactory stimuli. Overall, our findings suggest that olfactory stimulation in the form of odour-scented cloths does not greatly influence the behaviour of captive meerkats. However, further investigation using a larger sample size, different methods of odour presentation and more biologically relevant odours is recommended in order to fully explore the potential application of olfactory stimulation as enrichment in captive meerkats.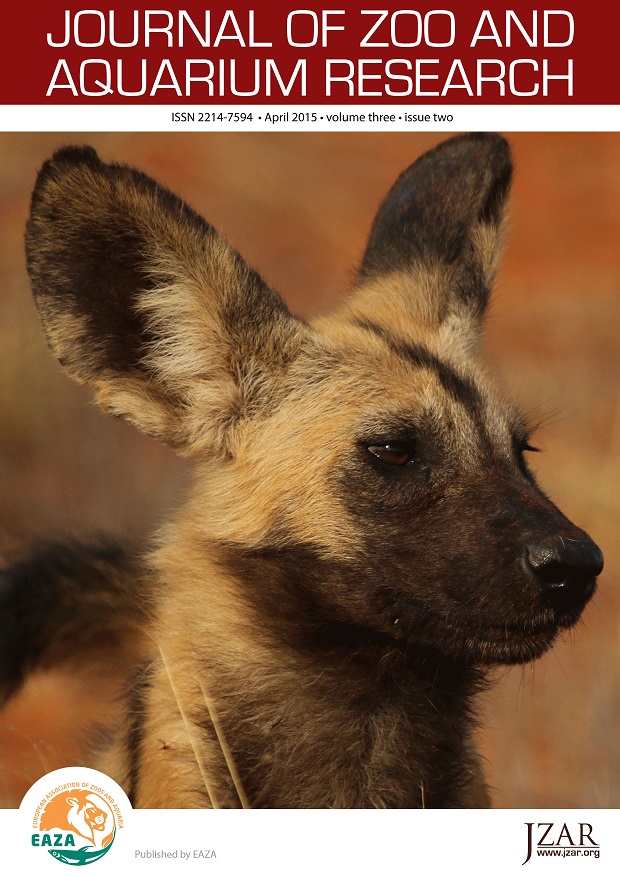 Downloads
How to Cite
Myles, S., & Montrose, V. T. (2015). The effects of olfactory stimulation on the behaviour of captive meerkats (Suricata suricatta). Journal of Zoo and Aquarium Research, 3(2), 37–42. https://doi.org/10.19227/jzar.v3i2.97
License
Authors who publish with this journal agree to the following terms:
Authors retain copyright and grant the journal right of first publication with the work simultaneously licensed under a Creative Commons Attribution License that allows others to share the work with an acknowledgement of the work's authorship and initial publication in this journal.
Authors are able to enter into separate, additional contractual arrangements for the non-exclusive distribution of the journal's published version of the work (e.g., post it to an institutional repository or publish it in a book), with an acknowledgement of its initial publication in this journal.
Authors are permitted and encouraged to post their work online (e.g., in institutional repositories or on their website) prior to and during the submission process, as it can lead to productive exchanges, as well as earlier and greater citation of published work (See The Effect of Open Access).