Faecal corticosterone responses of black rhinos (Diceros bicornis) to a transfer between housing facilities within a zoo
Abstract
Faecal corticosterone metabolites (FCM) of four black rhinos (Diceros bicornis) at Magdeburg Zoo in Germany were investigated to assess the stress level associated with an internal transfer of rhinos between housing facilities. Moving rhinos within the zoo led to a punctual increase of FCM concentrations in three animals. We observed no signs of a period of acclimatisation, such as increased FCM levels for several days or longer periods. Increased FCM levels of one out of three rhinos re-investigated one year after the enclosure change, may be related to the reproductive status of this female (five to six months before parturition). The moderate FCM response patterns found in this study indicate that the transfer of rhinos between enclosures at Magdeburg Zoo was minimally invasive.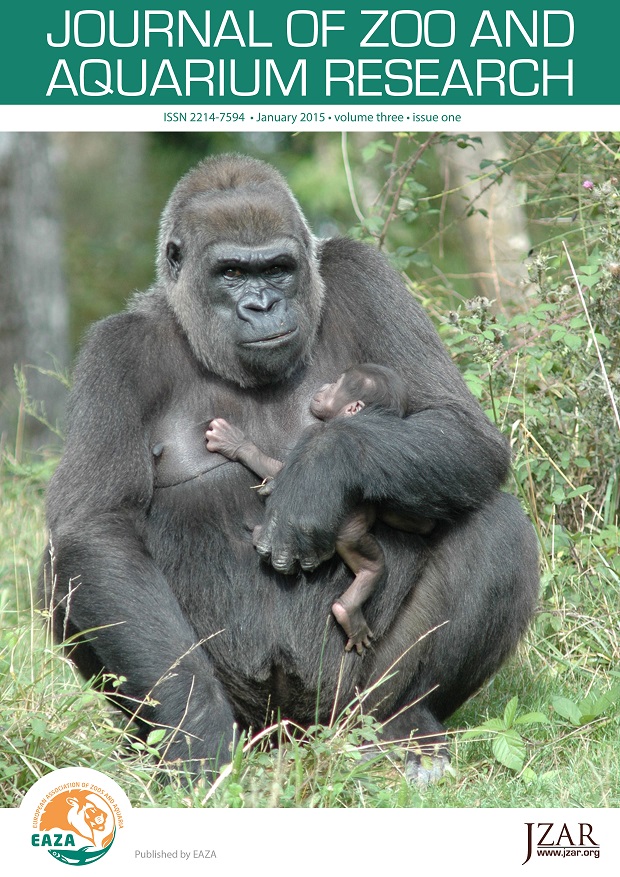 Downloads
How to Cite
Göttert, T., Grothmann, P., & Zeller, U. (2015). Faecal corticosterone responses of black rhinos (Diceros bicornis) to a transfer between housing facilities within a zoo. Journal of Zoo and Aquarium Research, 3(1), 25–28. https://doi.org/10.19227/jzar.v3i1.92
Section
Evidence Based Practice
License
Authors who publish with this journal agree to the following terms:
Authors retain copyright and grant the journal right of first publication with the work simultaneously licensed under a Creative Commons Attribution License that allows others to share the work with an acknowledgement of the work's authorship and initial publication in this journal.
Authors are able to enter into separate, additional contractual arrangements for the non-exclusive distribution of the journal's published version of the work (e.g., post it to an institutional repository or publish it in a book), with an acknowledgement of its initial publication in this journal.
Authors are permitted and encouraged to post their work online (e.g., in institutional repositories or on their website) prior to and during the submission process, as it can lead to productive exchanges, as well as earlier and greater citation of published work (See The Effect of Open Access).