Citrobacter freundii infection in two captive Australian king parrots (Alisterus scapularis)
Abstract
An adult and a juvenile male Australian king parrot (Alisterus scapularis) were found dead in their facilities in a private aviary in June 2010 without premonitory clinical signs before death. Gross examinations showed enlarged livers, enlarged spleens with petechiae, distended proventriculi, and distended and haemorrhagic intestinal tracts. Unilateral pneumonia and enlarged kidneys were also observed in the adult parrot. Tissue samples from the heart, lungs, liver, spleen, kidneys, proventriculus and intestine were analysed using real-time polymerase chain reaction, histopathological, and bacteriological studies. Citrobacter freundii was isolated from several organs in the two parrots. To the authors' knowledge, this is the first report of a C. freundii infection causing lesions and sudden death in Psittaciformes.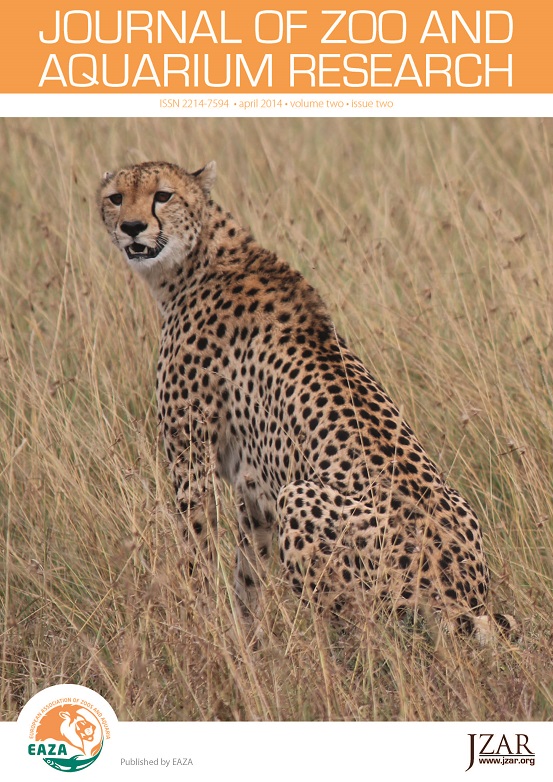 Downloads
How to Cite
Gornatti Churria, C. D., Arias, N., Origlia, J., Netri, C., Marcantoni, H., Píscopo, M., Herrero Loyola, M., & Petruccelli, M. (2014). Citrobacter freundii infection in two captive Australian king parrots (Alisterus scapularis). Journal of Zoo and Aquarium Research, 2(2), 52–53. https://doi.org/10.19227/jzar.v2i2.80
Section
Evidence Based Practice
License
Authors who publish with this journal agree to the following terms:
Authors retain copyright and grant the journal right of first publication with the work simultaneously licensed under a Creative Commons Attribution License that allows others to share the work with an acknowledgement of the work's authorship and initial publication in this journal.
Authors are able to enter into separate, additional contractual arrangements for the non-exclusive distribution of the journal's published version of the work (e.g., post it to an institutional repository or publish it in a book), with an acknowledgement of its initial publication in this journal.
Authors are permitted and encouraged to post their work online (e.g., in institutional repositories or on their website) prior to and during the submission process, as it can lead to productive exchanges, as well as earlier and greater citation of published work (See The Effect of Open Access).