Reproductive assessment and preliminary evaluation of assisted reproductive technologies in drills (<i>Mandrillus leucophaeus</i>)
Abstract
The drill (Mandrillus leucophaeus) is listed as endangered by the IUCN and its population is decreasing due to habitat loss and human activity. The European Endangered Species Programme (EEP) aims to consolidate a self-sustaining ex-situ population, and there is a need to develop appropriate assisted reproductive technologies (ART) that could help to increase breeding rates and/or genetic variability, or at least preserve sexual cells for the future. In 2006, a new breeding male drill arrived at Barcelona Zoo but was unable to mate appropriately with females during oestrus. Several attempts at sperm cell recovery by electro-ejaculation were performed on the breeding male in order to ascertain his fertility, while female oestrous cycles were visually monitored every month. In all, five electro-ejaculation and artificial insemination (AI) attempts were undertaken. Good samples of sperm were gathered and preserved, but the optimal moment for insemination needs more investigation, as no female got pregnant. To our knowledge, this is the first report of attempted AI in drills under anaesthesia and provides some valuable information for the future development of ART in endangered cercopithecids.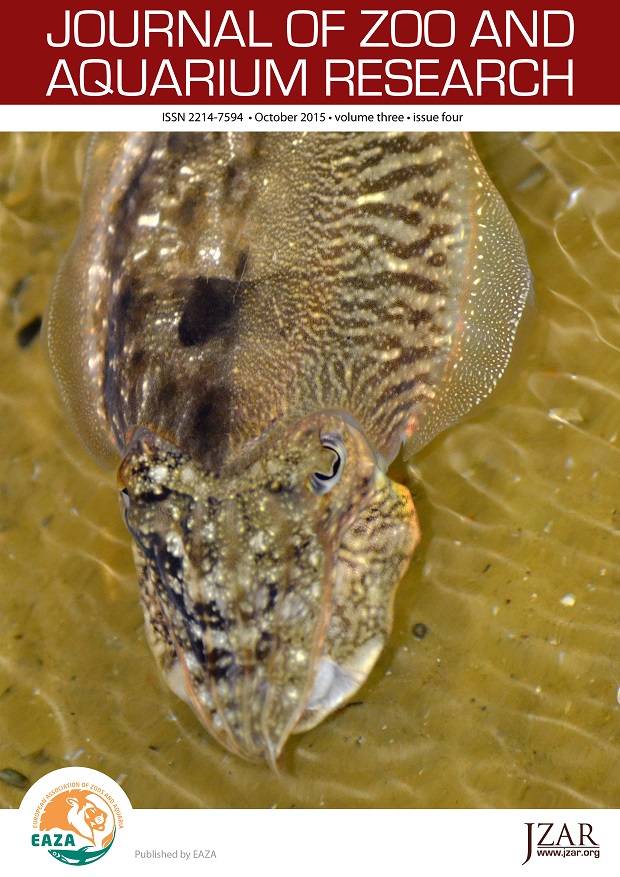 Downloads
How to Cite
Maya-Soriano, M., Abelló, M. T., Fernández-Bellon, H., Martín, M., Vidal, J., Salvador, C., & Lopez-Bejar, M. (2015). Reproductive assessment and preliminary evaluation of assisted reproductive technologies in drills (<i>Mandrillus leucophaeus</i>). Journal of Zoo and Aquarium Research, 3(4), 116–122. https://doi.org/10.19227/jzar.v3i4.65
License
Authors who publish with this journal agree to the following terms:
Authors retain copyright and grant the journal right of first publication with the work simultaneously licensed under a Creative Commons Attribution License that allows others to share the work with an acknowledgement of the work's authorship and initial publication in this journal.
Authors are able to enter into separate, additional contractual arrangements for the non-exclusive distribution of the journal's published version of the work (e.g., post it to an institutional repository or publish it in a book), with an acknowledgement of its initial publication in this journal.
Authors are permitted and encouraged to post their work online (e.g., in institutional repositories or on their website) prior to and during the submission process, as it can lead to productive exchanges, as well as earlier and greater citation of published work (See The Effect of Open Access).