Zoo BAPs: biodiversity action plans for conserving native wildlife in and around zoological gardens
Abstract
Failure by the international community to meet Convention on Biological Diversity targets has heaped added pressure on national and local biodiversity action plans (BAPs). Zoological gardens are playing an increasing role in practical conservation of wild habitats, but zoos have rarely developed formal BAPs. Here we introduce the concept of zoo BAPs, i.e. strategic plans for the conservation of biodiversity in and around zoological gardens. We use the first formal zoo BAP, developed at Flamingo Land Theme Park and Zoo in the UK, to introduce a framework for the establishment, monitoring and re-evaluation of a Zoo BAP. Throughout the framework we emphasise stakeholder participation, particularly involving zoo staff and local government biodiversity representatives. Species and habitats must be selected that are locally relevant, and are either threatened or have value as indicators or flagships for conservation. Each species or habitat must have targets that can be measured, monitored, and then evaluated for annual revision of conservation actions. This kind of "adaptive management" should allow a flexible, evidence-based approach to conservation. Use of national and international frameworks for biodiversity assessment should also help zoos to become increasingly aligned with the international conservation community.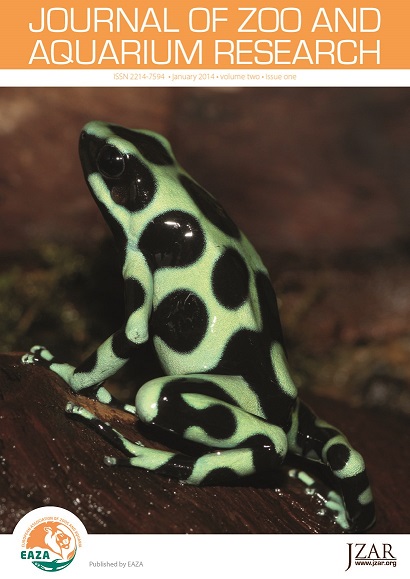 Downloads
How to Cite
Hambly, N., & Marshall, A. R. (2014). Zoo BAPs: biodiversity action plans for conserving native wildlife in and around zoological gardens. Journal of Zoo and Aquarium Research, 2(1), 18–21. https://doi.org/10.19227/jzar.v2i1.63
Section
Evidence Based Practice
License
Authors who publish with this journal agree to the following terms:
Authors retain copyright and grant the journal right of first publication with the work simultaneously licensed under a Creative Commons Attribution License that allows others to share the work with an acknowledgement of the work's authorship and initial publication in this journal.
Authors are able to enter into separate, additional contractual arrangements for the non-exclusive distribution of the journal's published version of the work (e.g., post it to an institutional repository or publish it in a book), with an acknowledgement of its initial publication in this journal.
Authors are permitted and encouraged to post their work online (e.g., in institutional repositories or on their website) prior to and during the submission process, as it can lead to productive exchanges, as well as earlier and greater citation of published work (See The Effect of Open Access).