Prevalence of <i>Devriesea agamarum</i> in the lizard collection of The Royal Zoological Society of Antwerp.
Abstract
In recent times, Devriesea agamarum is more frequently diagnosed as the causative organism of dermatitis in lizards, particularly in spiny-tailed lizards (Uromastyx sp.). Other lizard species such as bearded dragons (Pogona vitticeps) are known as asymptomatic carriers posing a potential threat to the healthy animals in a collection. This study reports on the isolation and phenotypic identification of D. agamarum from six healthy jeweled curly-tailed lizards (Leiocephalus personatus) in the reptile collection of the Royal Zoological Society of Antwerp. Two clinical cases were presented in the same study period: a frilled lizard (Chlamydosaurus kingii) and a Philippine sailfin lizard (Hydrosaurus pustulatus). These animals had abscesses in their beaks from which rich growth of D.agamarum was obtained. It was concluded from this study that a quarantine programme for newly acquired animals is important to detect healthy carriers and prevent the spread of infection.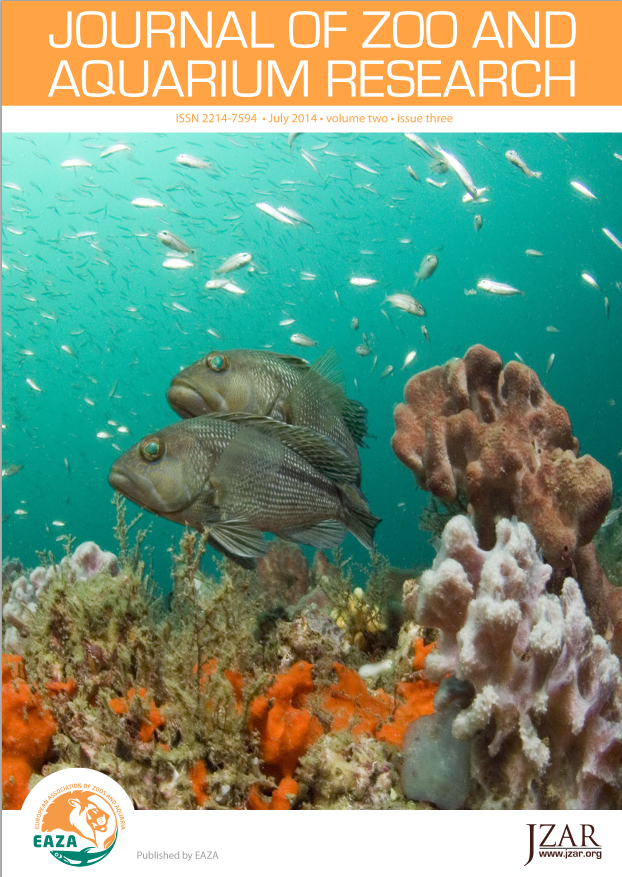 Downloads
How to Cite
Bauwens, L. (2014). Prevalence of <i>Devriesea agamarum</i> in the lizard collection of The Royal Zoological Society of Antwerp. Journal of Zoo and Aquarium Research, 2(3), 88–91. https://doi.org/10.19227/jzar.v2i3.49
Section
Evidence Based Practice
License
Authors who publish with this journal agree to the following terms:
Authors retain copyright and grant the journal right of first publication with the work simultaneously licensed under a Creative Commons Attribution License that allows others to share the work with an acknowledgement of the work's authorship and initial publication in this journal.
Authors are able to enter into separate, additional contractual arrangements for the non-exclusive distribution of the journal's published version of the work (e.g., post it to an institutional repository or publish it in a book), with an acknowledgement of its initial publication in this journal.
Authors are permitted and encouraged to post their work online (e.g., in institutional repositories or on their website) prior to and during the submission process, as it can lead to productive exchanges, as well as earlier and greater citation of published work (See The Effect of Open Access).