Assessing the effects of biosecurity measures in terrarium management
Keywords:
disease prevention, husbandry, infection, personal protection equipment, zookeeper
Abstract
As wild populations of amphibians and reptiles are threatened by habitat loss and emerging diseases, the importance of captive populations serving as survival assurance colonies and stock for reintroduction programmes increases. As does the need for adequate biosecurity procedures to reduce risks of pathogen spread within captive populations. This study documents the pathways of pathogens induced during some of the daily husbandry procedures performed by zookeepers, and how they can be mitigated. The study compares the effectiveness of two different biosecurity measures, individually and combined, at reducing pathogen transfer. Ten zookeepers performed daily husbandry routines on 10 simulated terrariums using no biosecurity measures, or using designated tools, disposable gloves, or a combination of the two. The effectiveness of these measures to avoid pathogen spread was investigated through the use of a UV tracer, allowing detection of contamination of subsequent enclosures. The study documented a significant difference between the degree of contamination in the four trials (P<0.0001), with the combination of gloves and dedicated tools providing the lowest degree of contamination (P<0.0001 compared to the control scenario). Although there was a tendency for gloves to reduce contamination, neither gloves nor dedicated tools alone significantly decreased contamination. The study clearly demonstrates the dramatic effect of simple biosecurity measures for reducing pathogen spread among animal enclosures and introduces a simple yet effective tool to the field of zoo management.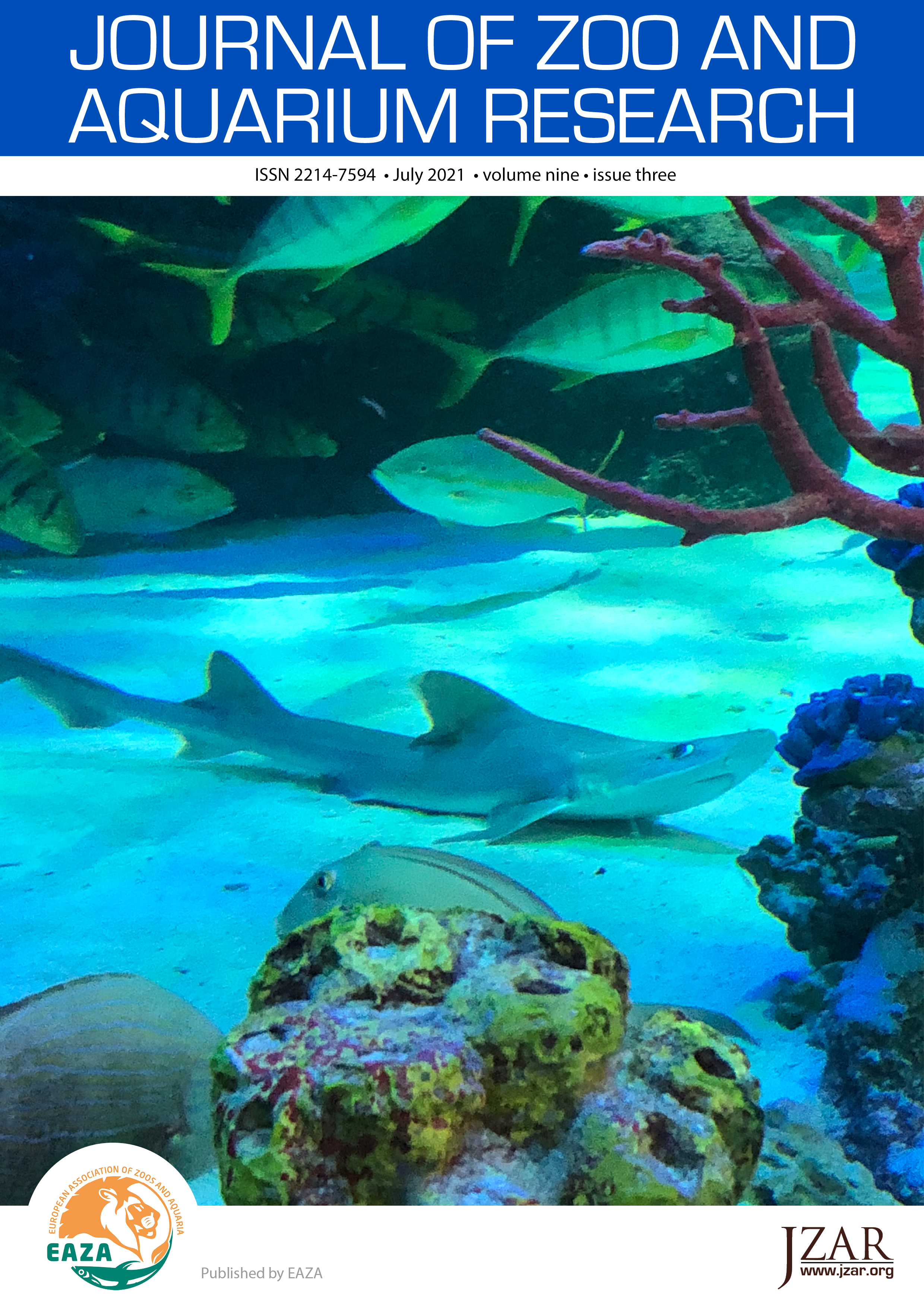 Downloads
How to Cite
Jensen, M., Jensen, U., & Bertelsen, M. (2021). Assessing the effects of biosecurity measures in terrarium management. Journal of Zoo and Aquarium Research, 9(3), 157–160. https://doi.org/10.19227/jzar.v9i3.470
License
JZAR fulfils the DOAJ definition of open access and provides free and open access to the full text of all content without delay under a Creative Commons licence. The copyright holder of JZAR publications grants usage rights to third parties, allowing for immediate free access to the work and permitting any user to read, download, copy, distribute, print, search, or link to the full texts of articles.