Sustainable species management of the elasmobranch populations within European aquariums: a conservation challenge
Keywords:
elasmobranch, breeding program, chondrichthyan, reproduction, census, IUCN
Abstract
Elasmobranches are popular animals in public aquariums. Worldwide more than 700 million people visit zoos and aquariums annually, enabling elasmobranches to become an important ambassador for their natural habitats. We conducted a census within the European Association of Zoos and Aquaria to gain a better overview of which species are present within European collections. The census showed that 102 chondrichthyan species are found in European zoos and public aquaria, accounting for 8,6% of all known species. Of the captive population 47.1% of species have reproduced in aquariums. Benthic species are found most commonly in aquariums. Of the species reproducing, 87.8% fall in the body size range of 51 to 250 cm. Categorising the reproductive results by reproductive mode, the most successful groups are oviparous and aplacental viviparous with uterine villi or trophonemata. A regional collection plan has been defined by using the results of the census and the IUCN status. Currently 42 species are managed by a species coordinator, within the ex-situ European elasmobranch population to ensure a genetically healthy population, to increase reproductive output, and to conduct husbandry research. Long-term breeding efforts will help to reduce the demand on wild populations to supply the aquarium population. Species coordinators will become the contact for in-situ conservation initiatives and international conservation bodies like IUCN. This study discusses further the future challenges in the captive management of chondrichthyan populations.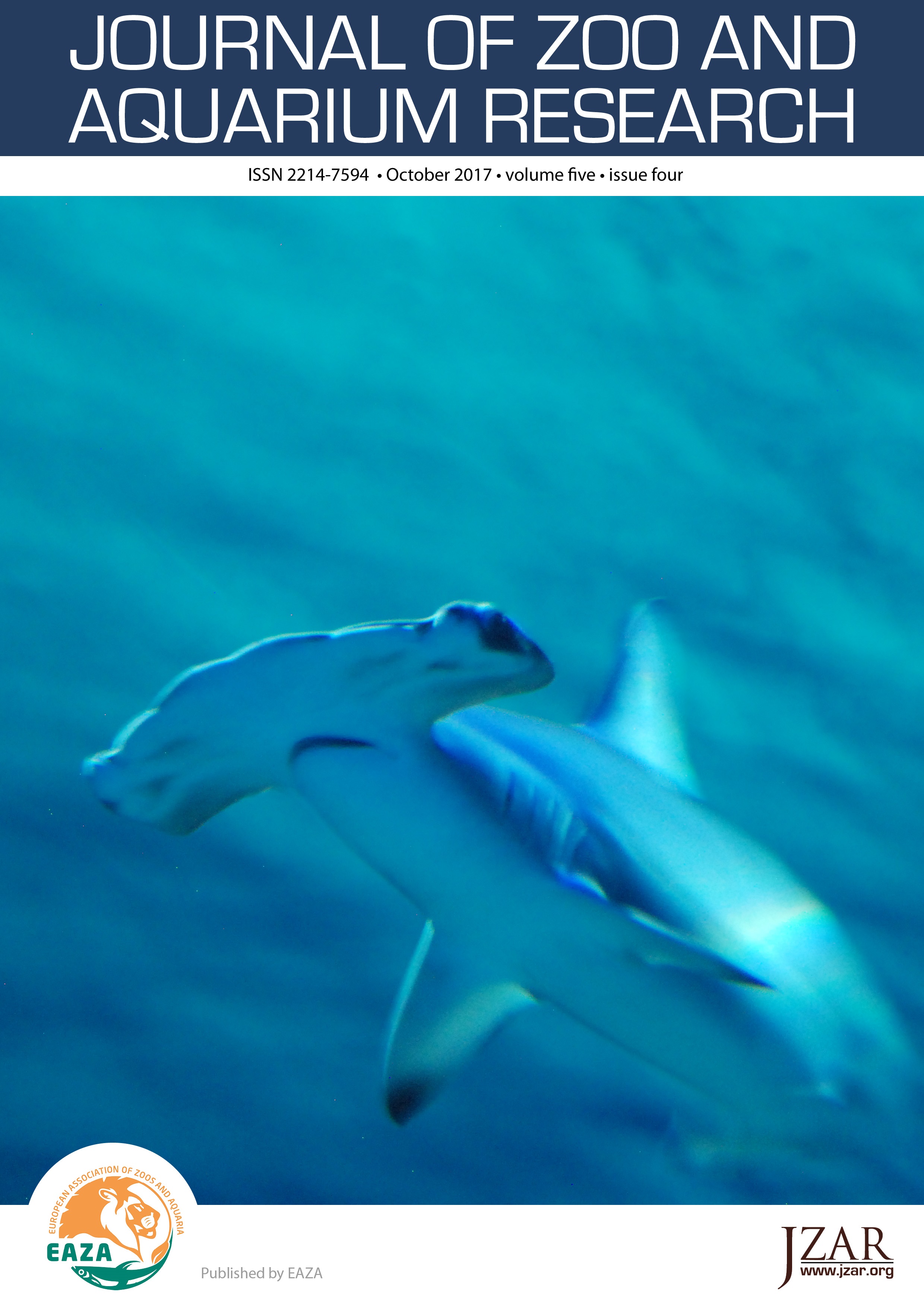 Downloads
How to Cite
Janse, M., Zimmerman, B., Geerlings, L., Brown, C., & Nagelkerke, L. A. (2017). Sustainable species management of the elasmobranch populations within European aquariums: a conservation challenge. Journal of Zoo and Aquarium Research, 5(4), 172–181. https://doi.org/10.19227/jzar.v5i4.313
License
Authors who publish with this journal agree to the following terms:
Authors retain copyright and grant the journal right of first publication with the work simultaneously licensed under a Creative Commons Attribution License that allows others to share the work with an acknowledgement of the work's authorship and initial publication in this journal.
Authors are able to enter into separate, additional contractual arrangements for the non-exclusive distribution of the journal's published version of the work (e.g., post it to an institutional repository or publish it in a book), with an acknowledgement of its initial publication in this journal.
Authors are permitted and encouraged to post their work online (e.g., in institutional repositories or on their website) prior to and during the submission process, as it can lead to productive exchanges, as well as earlier and greater citation of published work (See The Effect of Open Access).