Conservation introduction of the Arabian Tahr to Sir Bani Yas Island, Abu Dhabi Emirate, UAE: challenges and lessons learnt
Abstract
The Arabian tahr (Arabitragus jayakari) is a mountain ungulate that is an Arabian Peninsula endemic only found along the Hajar Mountain range that extends between the United Arab Emirates and the Sultanate of Oman. In the UAE the Arabian tahr was found in two locations namely Wadi Wurayah in Fujairah Emirate and Jebel Hafeet in Abu Dhabi Emirate, but in recent years seems to have disappeared from Wadi Wurayah. To create a suitable population for re-introduction in to their historic range a conservation introduction was initiated to create a population of semi-wild Arabian tahr that would be better suited for release into the wild. The population on Sir Bani Yas Island in the Arabian Gulf in Abu Dhabi Emirate has generated many challenges and lessons as some individuals were lost to predation and injuries. The lessons learnt were that a released population should comprise of at least 10+ individuals, as losses in small populations can be catastrophic. The management of this project via a multi-disciplinary committee comprising all stakeholders has been very effective in resolving issues and making urgent and important decisions. This "half-way" house conservation introduction (placement of species outside their historic range for conservation purposes) project can be useful for creating semi-wild populations for release and which also have an important educational awareness component.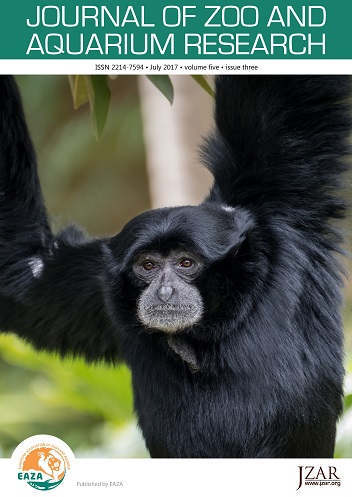 Downloads
How to Cite
Dhaheri, S. A., Soorae, P. S., Kock, M. de, Mehmood, A., Gouws, A., Burns, K., Rapaie, M., Nassan, I. A., Cole, J., Zoywed, H. A., & Zaabi, R. A. (2017). Conservation introduction of the Arabian Tahr to Sir Bani Yas Island, Abu Dhabi Emirate, UAE: challenges and lessons learnt. Journal of Zoo and Aquarium Research, 5(3), 137–141. https://doi.org/10.19227/jzar.v5i3.279
Section
Evidence Based Practice
License
Authors who publish with this journal agree to the following terms:
Authors retain copyright and grant the journal right of first publication with the work simultaneously licensed under a Creative Commons Attribution License that allows others to share the work with an acknowledgement of the work's authorship and initial publication in this journal.
Authors are able to enter into separate, additional contractual arrangements for the non-exclusive distribution of the journal's published version of the work (e.g., post it to an institutional repository or publish it in a book), with an acknowledgement of its initial publication in this journal.
Authors are permitted and encouraged to post their work online (e.g., in institutional repositories or on their website) prior to and during the submission process, as it can lead to productive exchanges, as well as earlier and greater citation of published work (See The Effect of Open Access).