Managing repetitive locomotor behaviour and time spent off exhibit in a male black-footed cat (Felis negripes) through exhibit and husbandry modifications
Abstract
At Cleveland Metroparks Zoo (Cleveland, OH, USA) a male black-footed cat was frequently observed to exhibit repetitive locomotor behaviour and spent a large portion of his day off exhibit. As part of a collaborative effort between animal care and research staff, a stepwise intervention strategy was developed to decrease the subject's repetitive locomotion and increase his time spent on exhibit. This plan consisted of four phases: baseline, the implementation of a random feeding schedule, exhibit modification, and the implementation of a low-starch diet. The implementation of the low-starch diet resulted in a significant decrease in locomotor behaviour and beginning with the first manipulative phase a qualitative decrease in repetitive locomotor behaviour was observed. Following the implementation of these changes, the subject also significantly decreased his time spent off exhibit. This is the first systematic study addressing an animal welfare concern in a black-footed cat.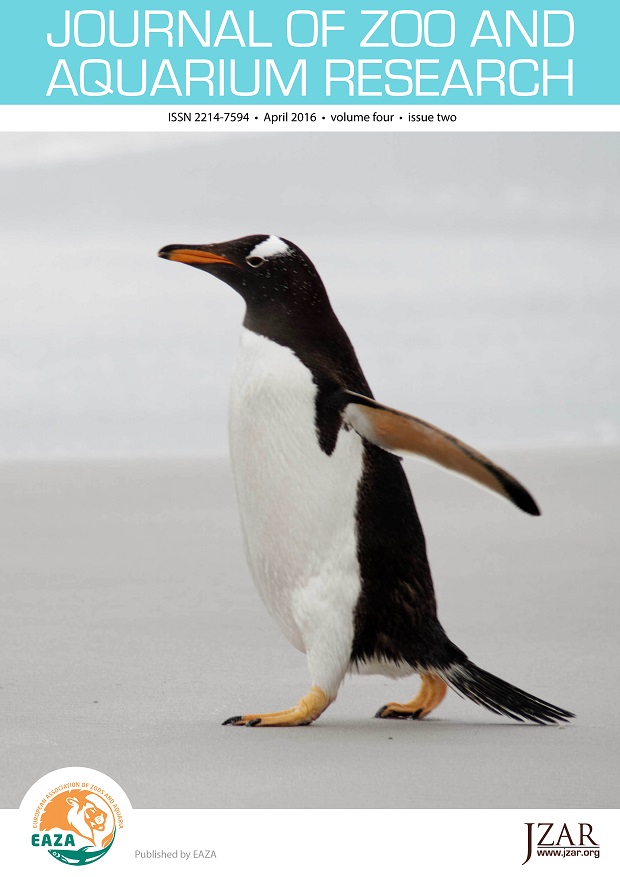 Downloads
How to Cite
Leeds, A., Stone, D., Johnson, B., Less, E., Schoffner, T., Dennis, P., Lukas, K., & Wark, J. (2016). Managing repetitive locomotor behaviour and time spent off exhibit in a male black-footed cat (Felis negripes) through exhibit and husbandry modifications. Journal of Zoo and Aquarium Research, 4(2), 109–114. https://doi.org/10.19227/jzar.v4i2.165
Section
Evidence Based Practice
License
Authors who publish with this journal agree to the following terms:
Authors retain copyright and grant the journal right of first publication with the work simultaneously licensed under a Creative Commons Attribution License that allows others to share the work with an acknowledgement of the work's authorship and initial publication in this journal.
Authors are able to enter into separate, additional contractual arrangements for the non-exclusive distribution of the journal's published version of the work (e.g., post it to an institutional repository or publish it in a book), with an acknowledgement of its initial publication in this journal.
Authors are permitted and encouraged to post their work online (e.g., in institutional repositories or on their website) prior to and during the submission process, as it can lead to productive exchanges, as well as earlier and greater citation of published work (See The Effect of Open Access).