Captive Breeding of the Shark Bay Mouse Pseudomys fieldi to Facilitate Species Recovery in the Wild
Abstract
Shark Bay Mice (P. fieldi) were bred at Perth Zoo to provide animals for release to the wild as part of recovery actions for the species.  Three-hundred and thirty-five young were produced from 93 litters, with an average litter size of 3.6 (range 1 – 6).  Sexual maturity for both sexes was reached at 65 days of age, and breeding was observed all year round.  The oldest female to give birth was 625 days of age and the oldest male to sire young was 531 days of age.  Following a planned interruption to the program and the separation of breeding pairs, there was some difficulty in later re-establishing reproduction.  A strategy to stimulate a return to breeding, along with detailed husbandry methods, is described.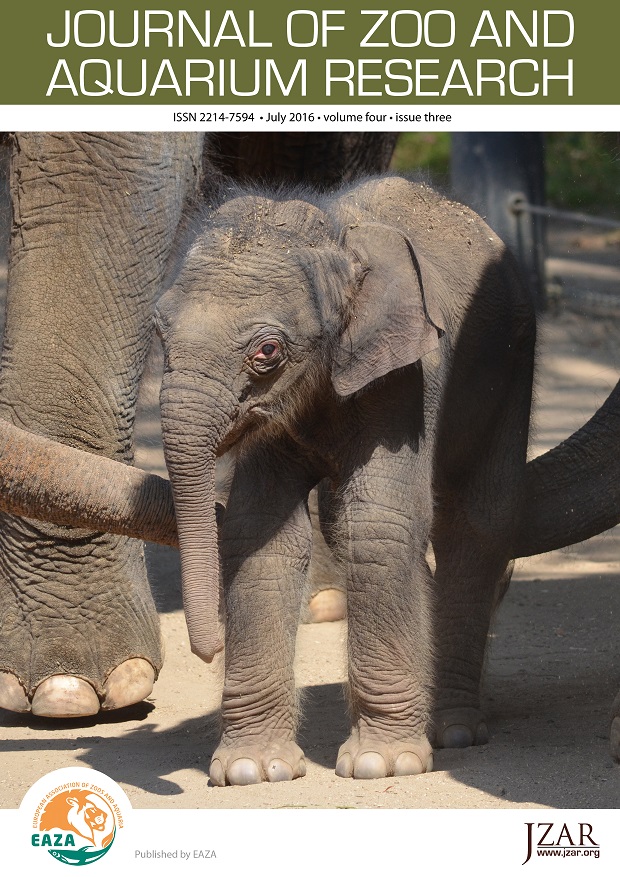 Downloads
How to Cite
Lambert, C., Power, V., & Gaikhorst, G. (2016). Captive Breeding of the Shark Bay Mouse Pseudomys fieldi to Facilitate Species Recovery in the Wild. Journal of Zoo and Aquarium Research, 4(3), 164–168. https://doi.org/10.19227/jzar.v4i3.141
License
Authors who publish with this journal agree to the following terms:
Authors retain copyright and grant the journal right of first publication with the work simultaneously licensed under a Creative Commons Attribution License that allows others to share the work with an acknowledgement of the work's authorship and initial publication in this journal.
Authors are able to enter into separate, additional contractual arrangements for the non-exclusive distribution of the journal's published version of the work (e.g., post it to an institutional repository or publish it in a book), with an acknowledgement of its initial publication in this journal.
Authors are permitted and encouraged to post their work online (e.g., in institutional repositories or on their website) prior to and during the submission process, as it can lead to productive exchanges, as well as earlier and greater citation of published work (See The Effect of Open Access).