Facial thermography is not useful in assessing body temperature in common squirrel monkeys (Saimiri sciureus) in comparison to rectal temperatures
Abstract
A group of 39 captive common squirrel monkeys (Saimiri sciureus) had their body temperature measurements compared by rectal thermometry and facial infrared thermal imaging (Flir i3, Flir Systems Inc). Squirrel monkeys were caught up and manually restrained for examination and temperature determination as part of routine health checks. The mean difference between rectal temperature and maximum facial thermography temperatures was 3.4?C (95% confidence interval [CI] 3.1-3.7?C). The repeatability coefficient of maximum facial temperatures was 3.18?C at a 95% CI. The Pearson correlation coefficient for maximum facial thermography temperatures compared to rectal temperatures was -0.10 (95% CI -0.27-0.07). This study found no meaningful correlation between facial thermography and rectal temperatures in common squirrel monkeys. Facial thermography had poor accuracy and poor precision compared to rectal temperature measurement. Facial thermography does not appear to be a useful means of detecting altered body temperature in captive common squirrel monkeys.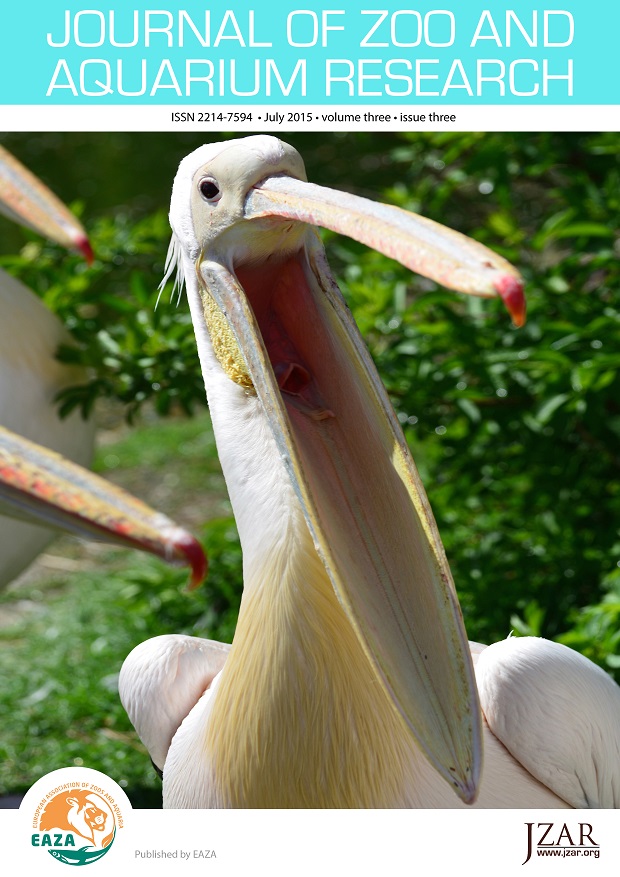 Downloads
How to Cite
Pizzi, R., Dowling, A., Brown, D., Girling, S., Pearson, S., Bacon, H., & Martinez Pereira, Y. (2015). Facial thermography is not useful in assessing body temperature in common squirrel monkeys (Saimiri sciureus) in comparison to rectal temperatures. Journal of Zoo and Aquarium Research, 3(3), 94–98. https://doi.org/10.19227/jzar.v3i3.132
License
Authors who publish with this journal agree to the following terms:
Authors retain copyright and grant the journal right of first publication with the work simultaneously licensed under a Creative Commons Attribution License that allows others to share the work with an acknowledgement of the work's authorship and initial publication in this journal.
Authors are able to enter into separate, additional contractual arrangements for the non-exclusive distribution of the journal's published version of the work (e.g., post it to an institutional repository or publish it in a book), with an acknowledgement of its initial publication in this journal.
Authors are permitted and encouraged to post their work online (e.g., in institutional repositories or on their website) prior to and during the submission process, as it can lead to productive exchanges, as well as earlier and greater citation of published work (See The Effect of Open Access).